Creality Ender-5 Plus 3d printer | Ultra Large scale 3d printer redesigned, bl touch pre-installed for easier auto-leveling, filament sensor equipped to avoid occasional printing errors, and dual Y-axis are also added for helping stable printing and smoother transmission.
Specification
Creality Ender-5 Plus FDM 3D Printer
A bigger build volume, a new bed-leveling probe, improved components: The Creality Ender-5 Plus strives to better the Ender-5 3D printer.
Ender-5 Plus FDM 3D Printer Features
Cubic-like Frame designed: Creality Ender-5 Plus 3D Printer is the larger version of the Creality Ender-5 3d printer, with the same cubic designed, solid cube frame. Box Design with Overhead Gantry.
Ultra Large Printing Format: 350X350X400mm | Meet more of your printing requirements, enable more ideas to be printed out, achieve better print results, and a larger print model at a time.
BL Touch Pre-Installed: Creality Ender-5 Plus 3D printer with BL Touch as configured. You just plug them in and start printing!
It can precisely measure the tilt of the Bed surface, offers the automatic compensation for the Z-axis for unevenness of the platform plate, easy to solve the printing failure caused by the unevenness of the platform and provide reliable operation with all build surfaces.
Stable Printing: Unlike Creality Ende-5, Creality Ender-5 Plus 3D Printer is with dual Z-Axis, Stable Z-axis Lead screw drive smoothly and steady. The movement of the build plate will be more stable.
Filament Sensor: When the filament runs out or disconnected, the Creality Ender-5 Plus 3D Printer will automatically be suspended to ensure the model can be smoothly printed.
Resume printing Function: Creality Ender-5 Plus 3D Printer resume printing while power-off, the motherboard is fully upgraded and supports continuous power failure, which effectively reduces model scrapping caused by power outages.
Technical Specifications
Ender-5 Plus FDM 3D Printer Properties
Modeling Technology: FDM(Fused Deposition Modeling)
Printing Size: 350x350x400mm
Ender-5 Plus FDM 3D Printer Hardware
Chassis Size : 632x666x619mm
N.W. : 18.2KG
Power Parameters: Input: 100-240V AC; Output: DC 24V 21A; Max 25A;
Ender-5 Plus FDM 3D Printer Extruder Hardware
Stock Nozzle:0.4mm
Print Accuracy: ±0.1mm
Maximum Hotend Temperature: ≤260°C
Ender-5 series Compare
Feature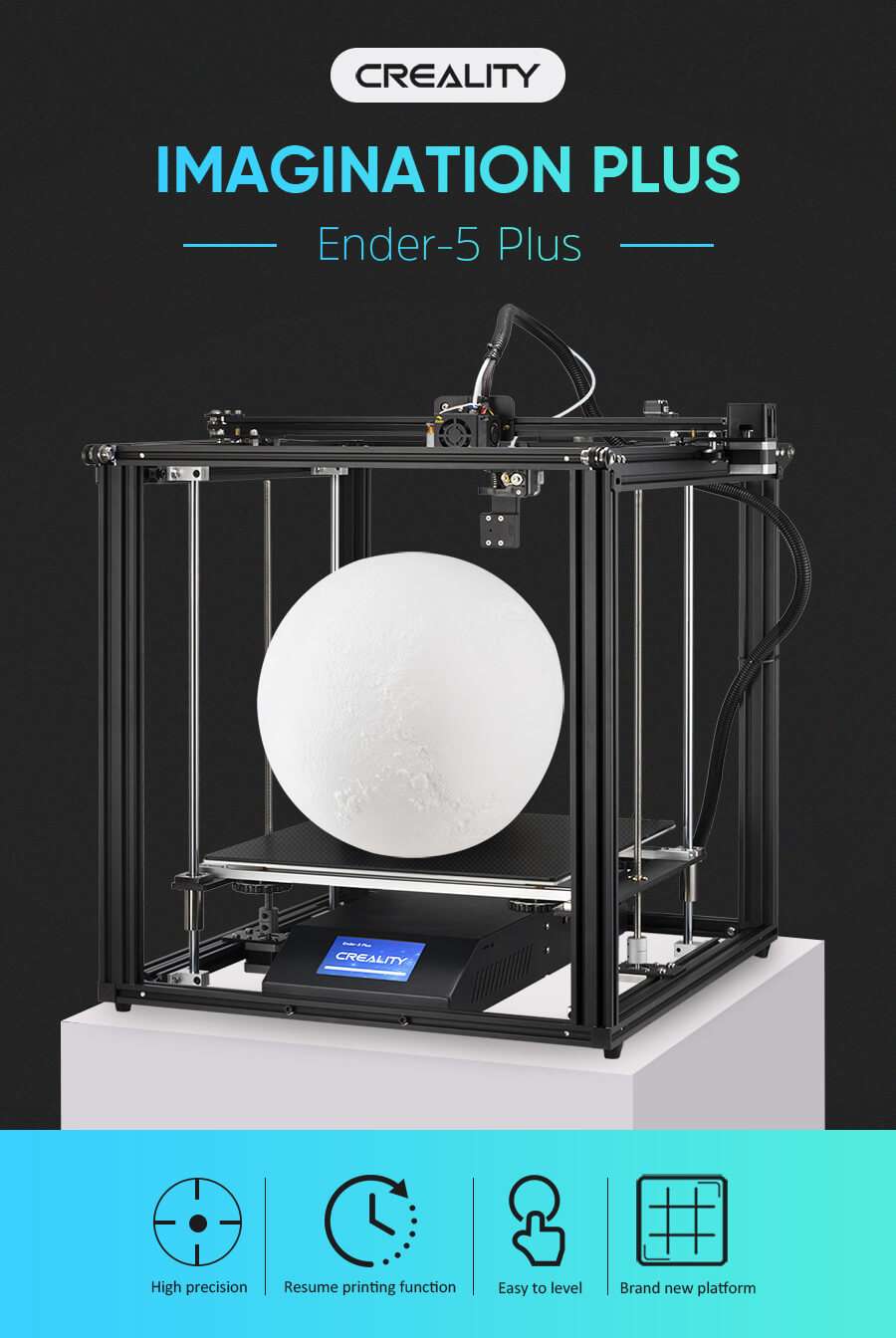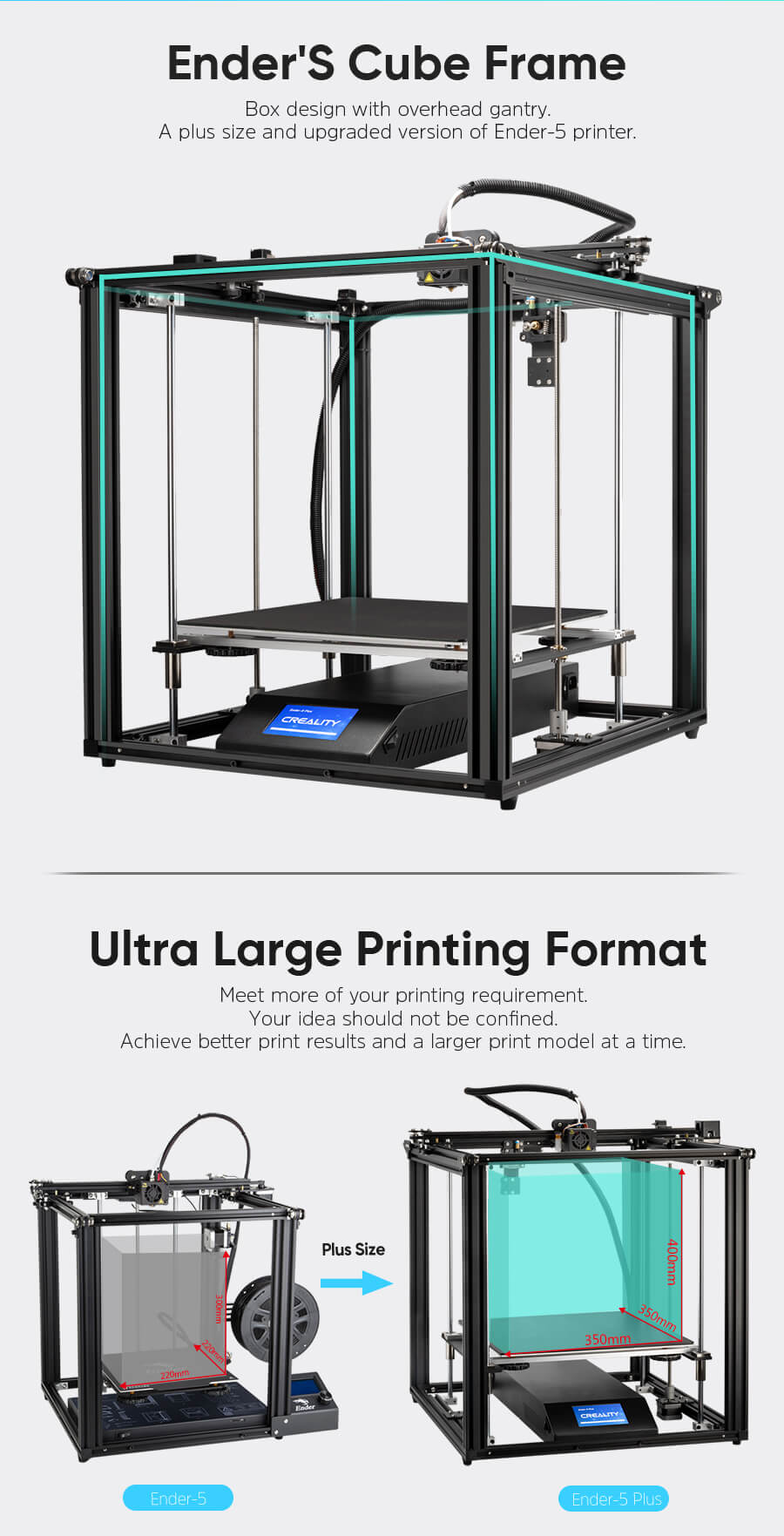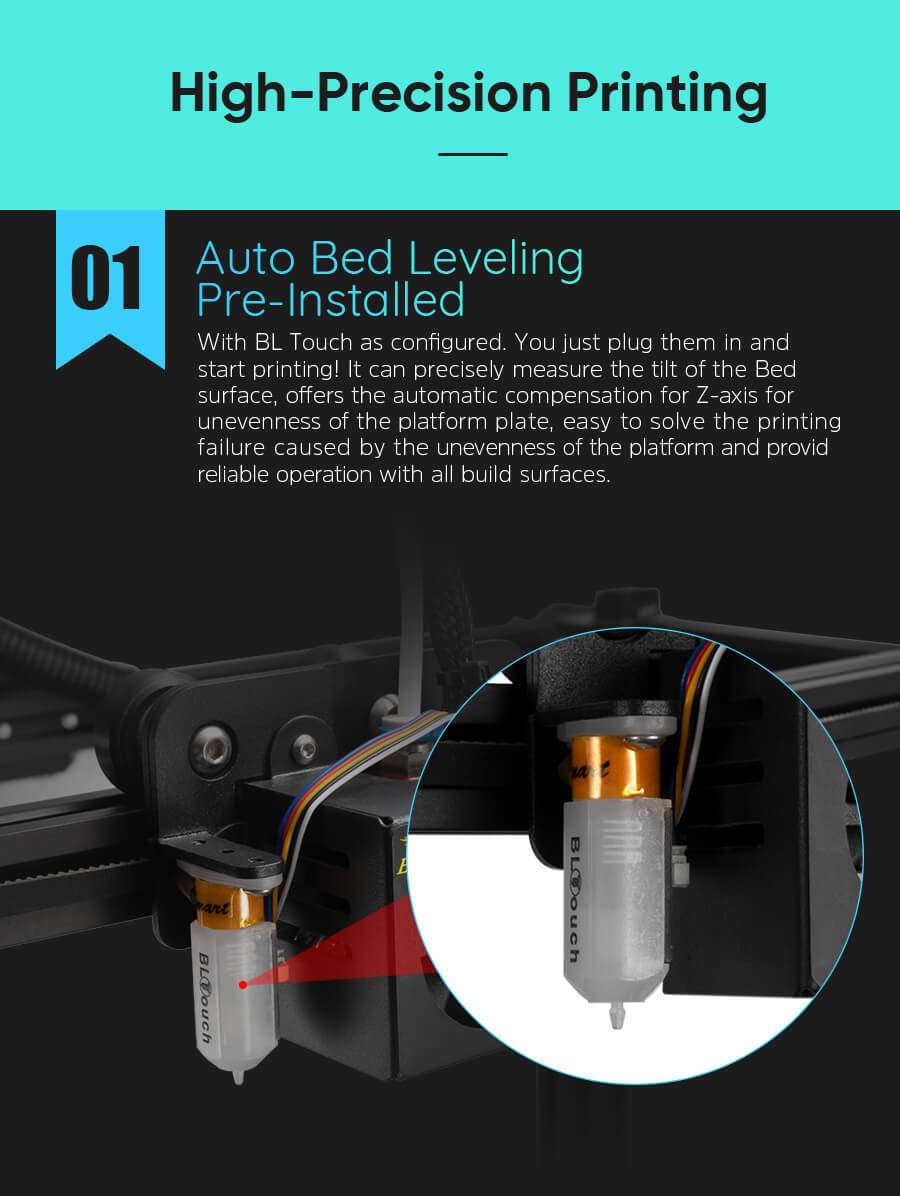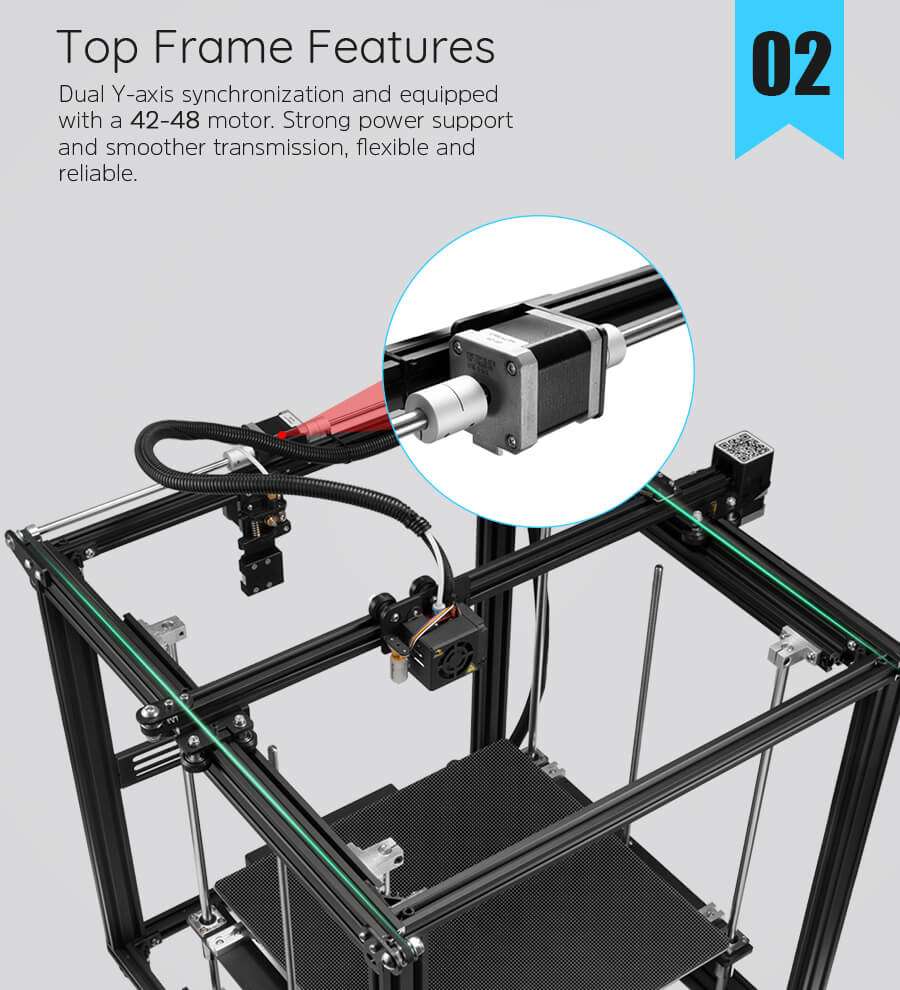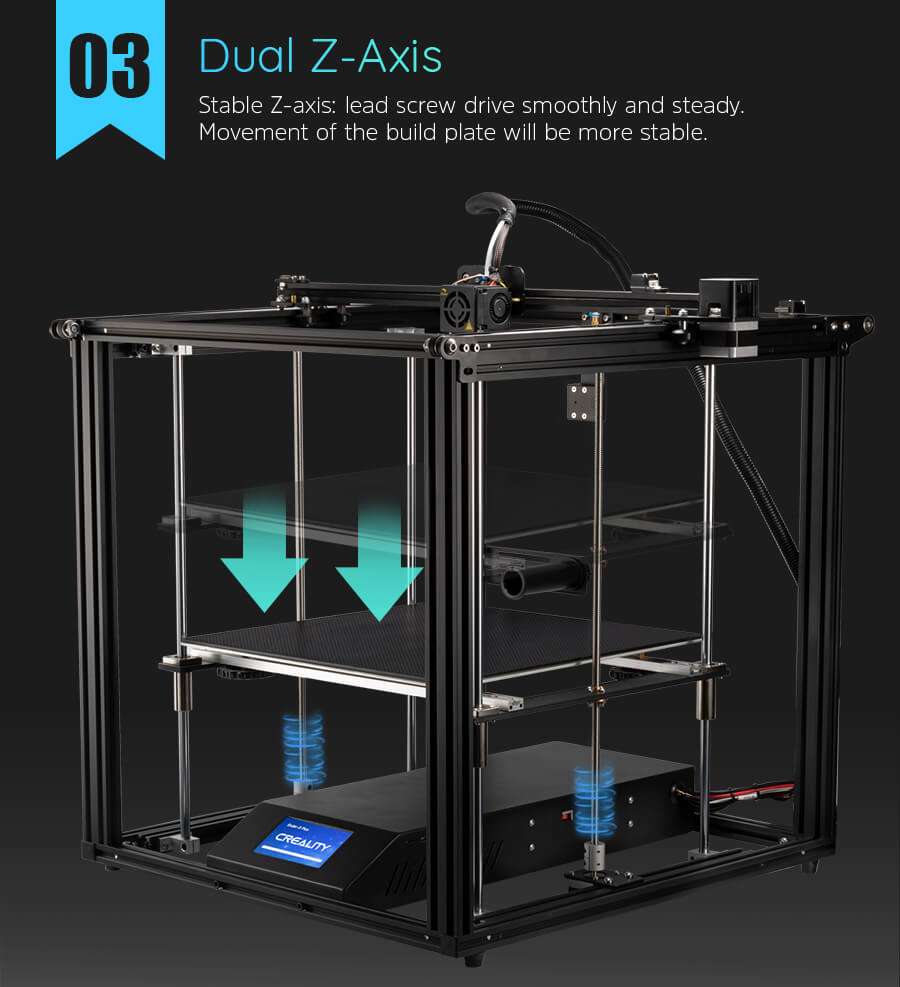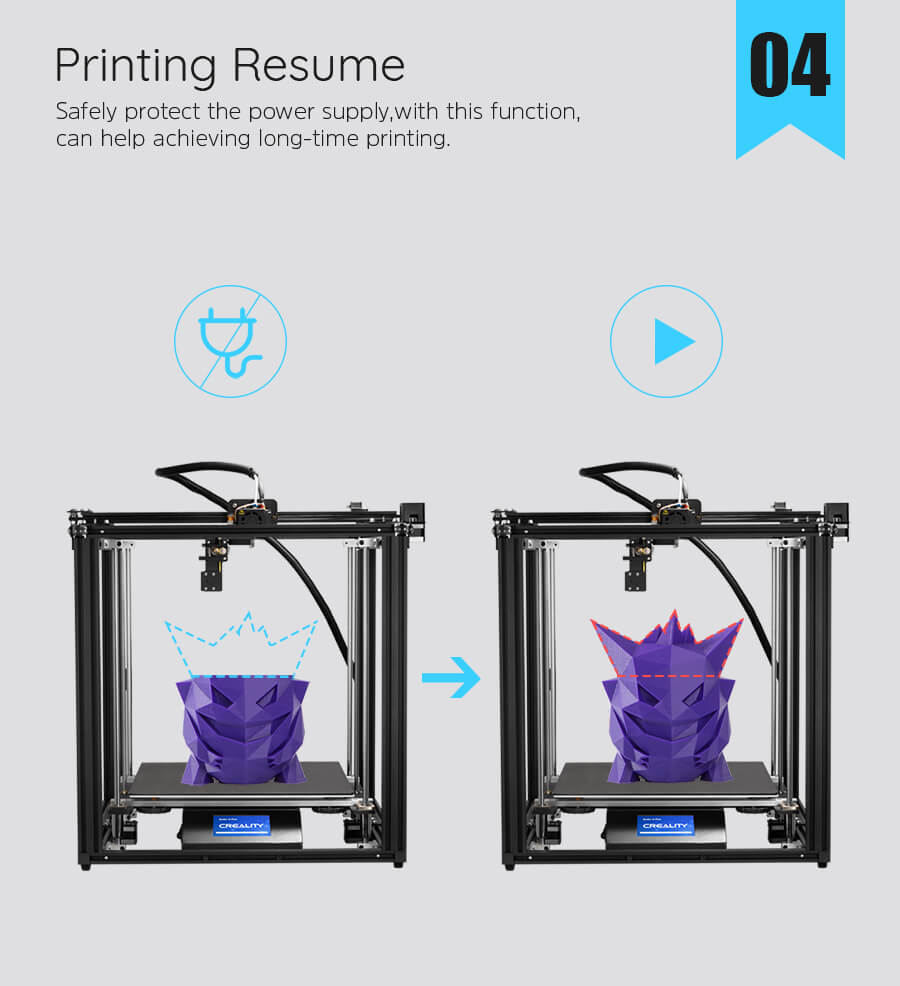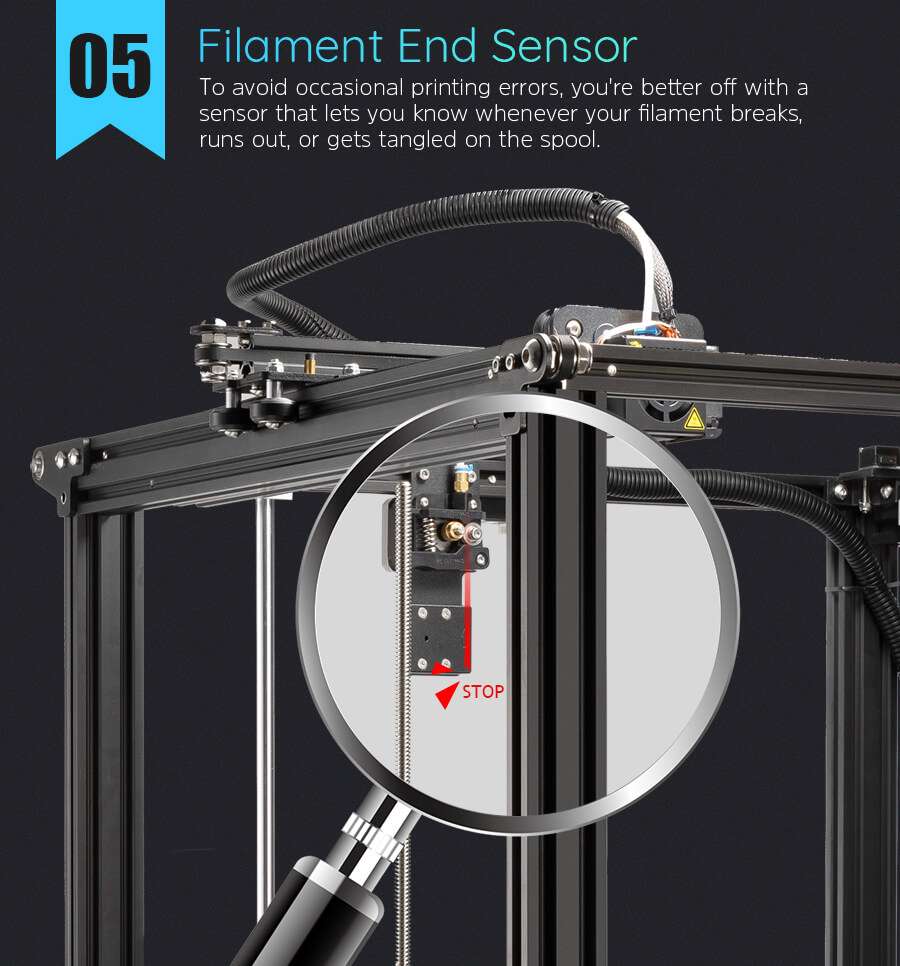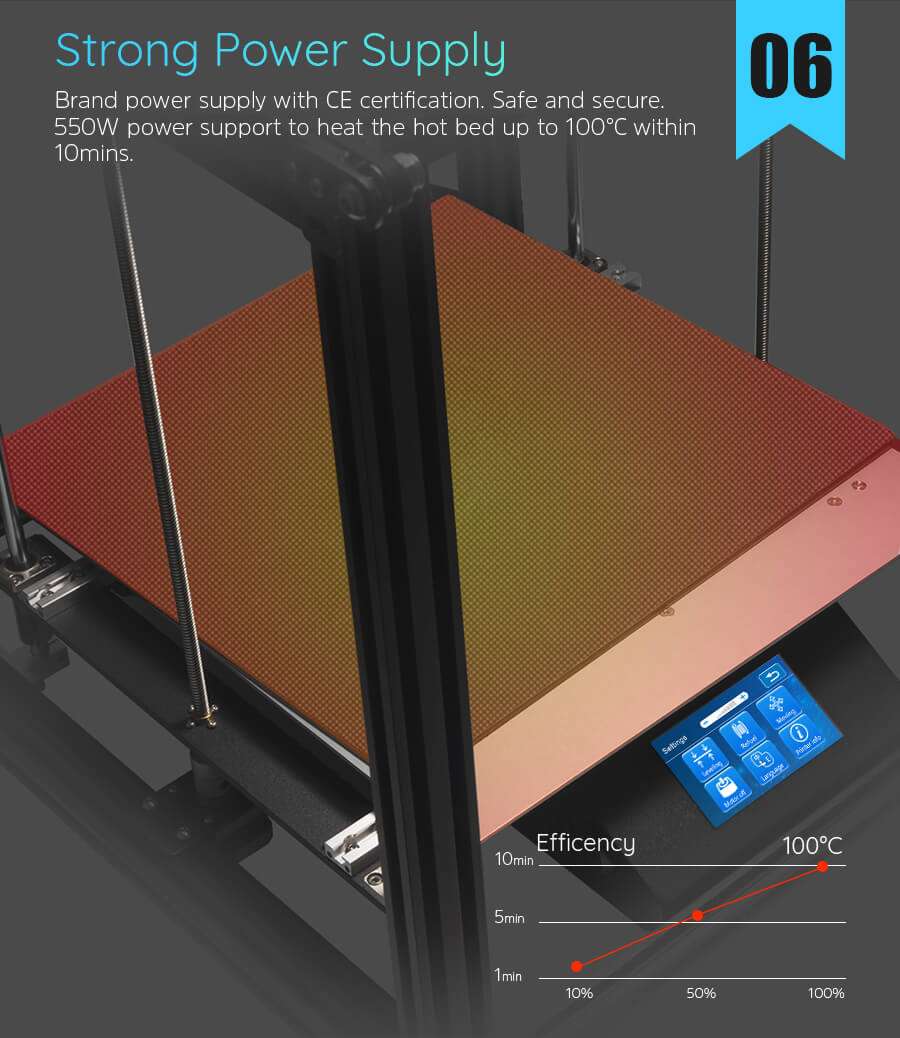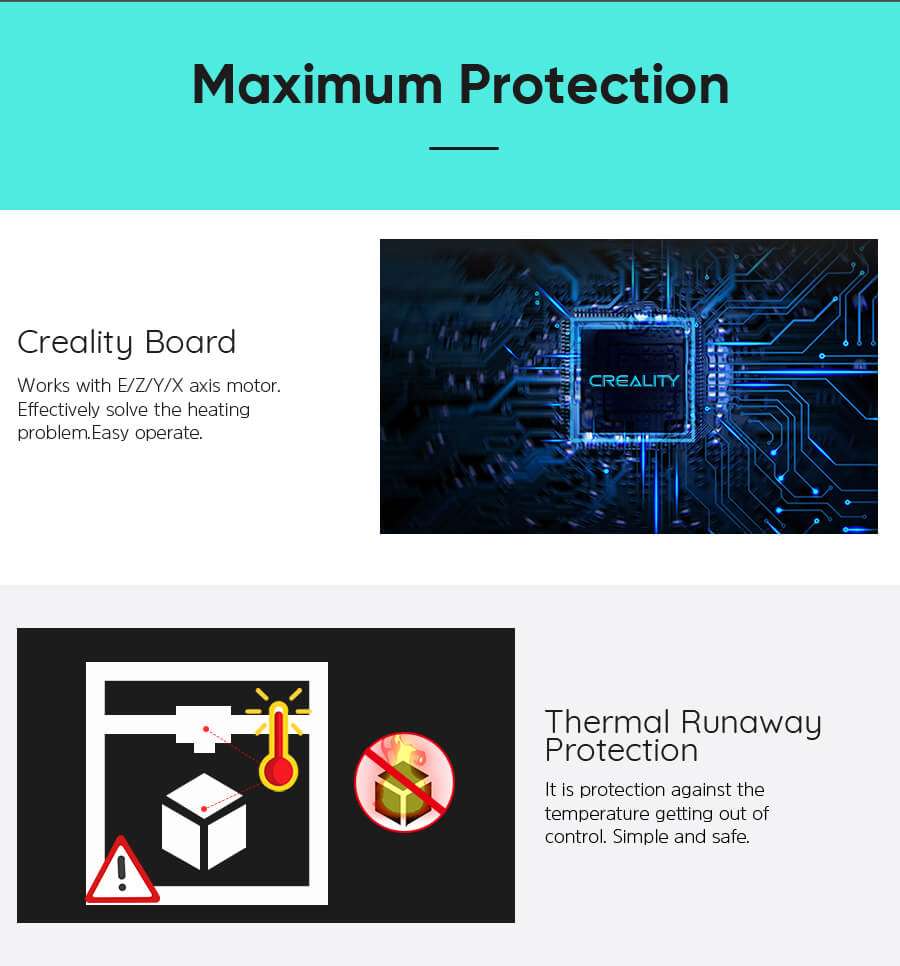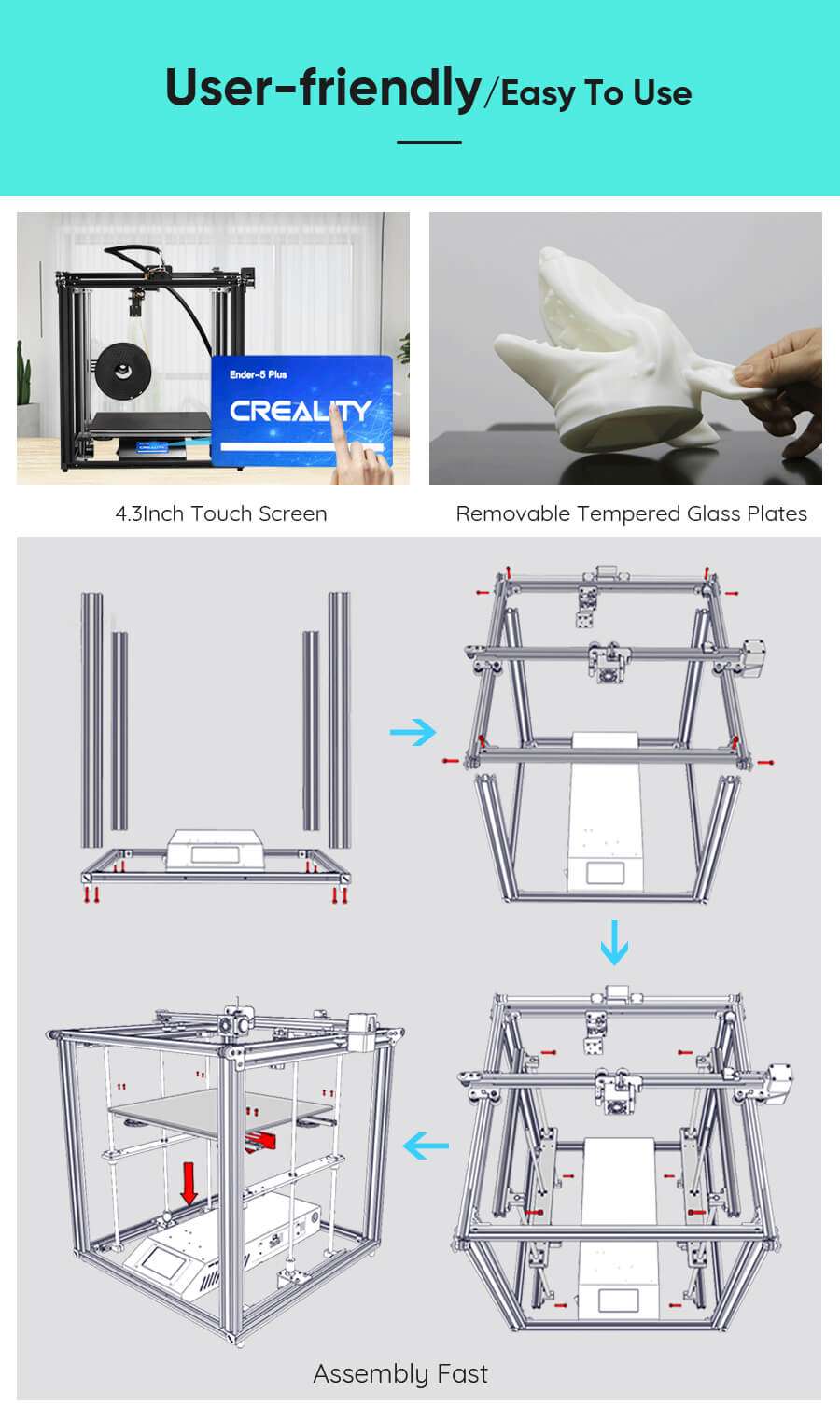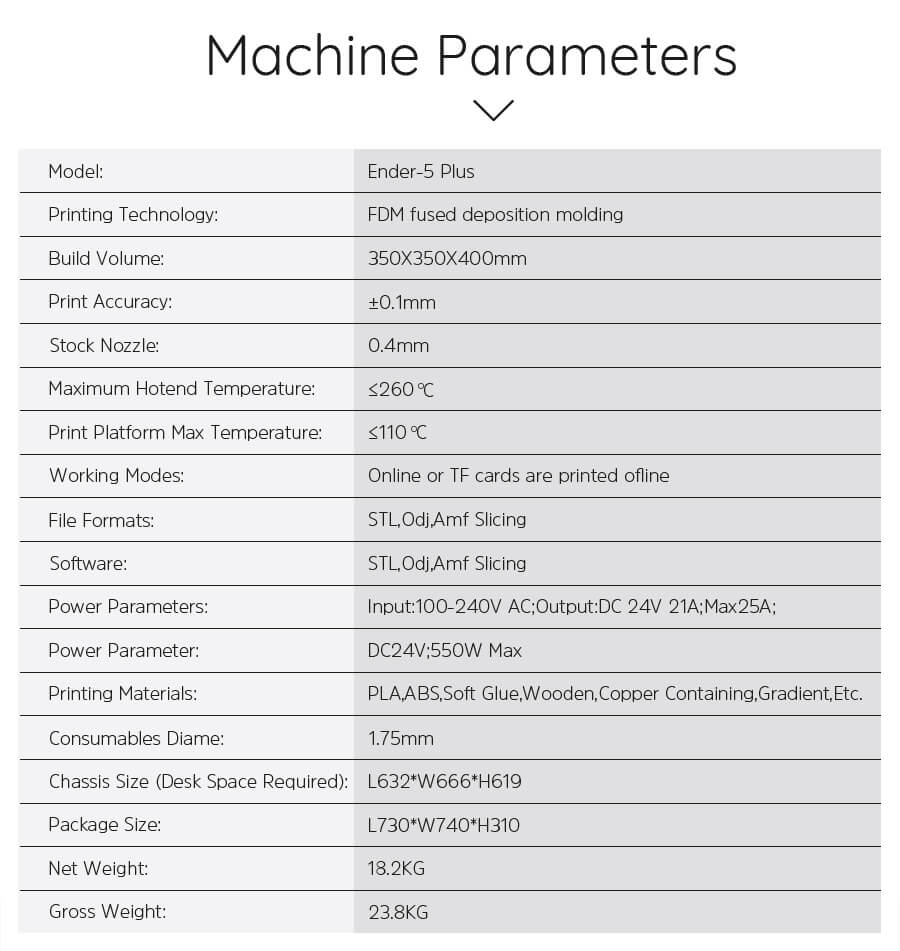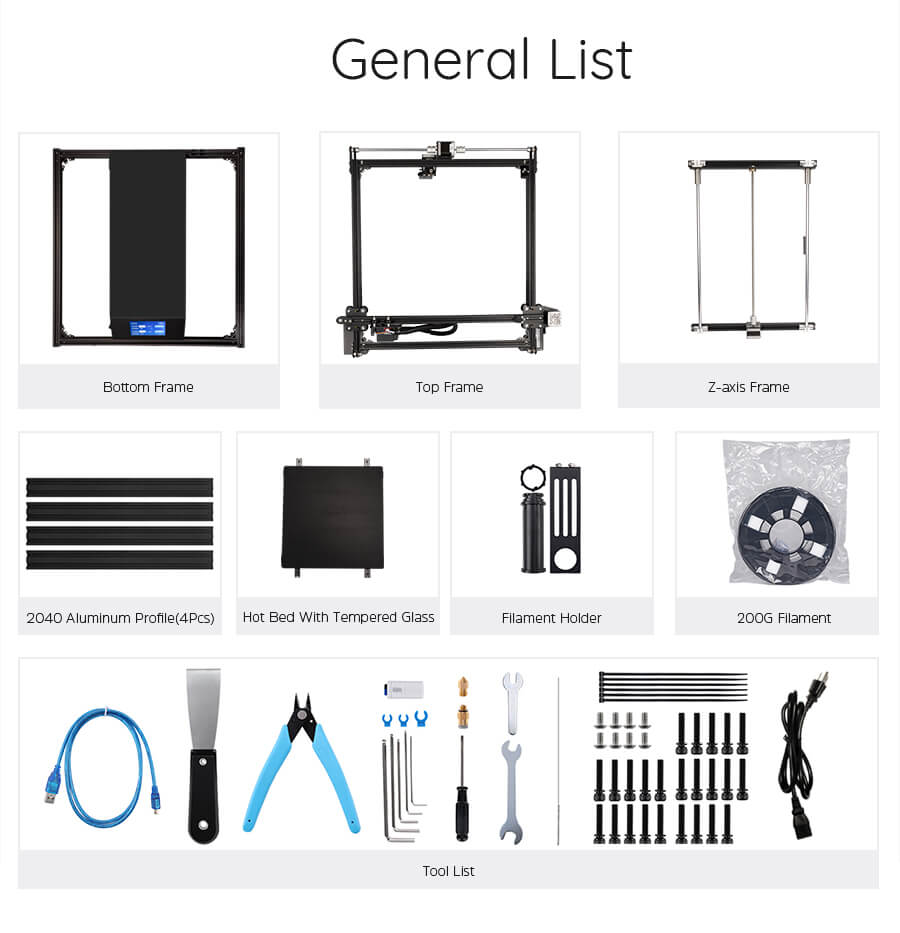 Video
Creality official DIY 3d printer Ender-5 plus made by 3d printing manufacturer, 350*350*400mm, Ender's cube frame, 4.3inch touch screen, ultra-large printing format to meet more of the printing requirement, stable Z-axis, auto bed leveling pre-installed, maximum protection, easy to assemble printing resume, filament end sensor, and strong power supply.
Review
Creality Ender-5 Plus Review
AndyC
Brilliant Machine overall
I bought this as an upgrade from the Ender 3 Pro and couldn't have been happier. The build volume is much better for larger prints. Shame it doesn't come with a mean well power supply and silent board as this would have made it the perfect printer. I ordered the upgraded silent board straight away and what a difference 🙂 Shame about the fans now but compared to before, massive difference. This is the only upgrade I have done and it has worked perfectly as is. I don't see the need for any more upgrades and would recommend it if you want to print bigger. I will get a new Ender 3 V2 when they are back in stock as I sold my other and regret it. Worth having 2 printers on the go to save time. I printed the Lego Man on it and looks great.
Andrew Mayo
If you need the build area, this is undoubtedly the best printer on the market
I am currently printing Covid-19 face masks for healthcare professionals and both this printer and my Ender 3 are currently dedicated to this, running 7 days a week, 16 hours a day, and sometimes longer, for the last two months.
Other than replacing the extruder with a cheap all-metal unit, fitting the Creality silent board, and replacing the lead screw brass bearings with cheap Delrin bearings (to remove z-axis backlash) the printer is running stock.
The only real gripe I have is that after discovering Octoprint introduces artifacts even when hosted on a Raspberry Pi 4, I'm back to printing from SD. The problem here is that unlike the Ender 3, the Ender 5 + stock firmware doesn't have a refresh SD option. If you add a standard SD to micro SD adapter cable like I did with the E3, then if you change the SD card the printer doesn't pick this up and the lack of a refresh option means you can't update the list of files to print without unplugging and replugging the adapter cable into the controller board – which kind of negates the whole purpose. If Creality could add this feature I'd be overjoyed.
The only other problem I've had is that sometimes I'll get a temperature trip warning during hot-end warm up to 255 degrees. This I think is a firmware issue because if I heat the hotend to 240 then 250 then 255 I don't get the error – and I've never had it fail during printing either.
The print quality is excellent. The slight Y-axis ringing on the Ender 3 which is a consequence of the large moving Y bed mass (with a glass plate fitted) is not evident on the Ender 5 and the solidity of the mechanical design is excellent – I think this is clearly the way to build large-format printers. Bed stability and flatness are very good. Using a 25mm square piece of 0.5mm thick thermal silicone sheet in each corner, you do not need any clips to secure the glass plate.