Creality Ender-3 3D Printer|An open-source 3d printer with amazing printing precision and affordable price, quite the best 3d printer for beginners.
Specification
Creality Ender-3 FDM 3D Printer
The Creality Ender-3 3D Printer is one of the best FDM printers under $200 right now, desired for its performance and versatility.
Even though it's a budget FDM 3d printer, the features it houses are comparable to many high-end printers out there.
There are a number of features that make the Creality Ender-3 3d printer one of the most popular machines currently on the market.
It has a build volume of 220 x 220 x 250mm, a BuildTak-like heated build plate, power recovery mode, and a tight filament pathway that makes it easier to print with flexible materials.
These are attributes that are difficult to find in even more expensive printers.
Ender-3 FDM 3D Printer  Features
Creality Ender-3 3D Printer is an open-sourced 3d printer.
For every community of users and contributors, for better improved, and more designs can culminate from some of the best and brightest minds in the 3D printing world.
Creality Ender-3 3D Printer is partially assembled and competed by Creality itself.
Which makes it a great 3d printing project for every school and student.
The especially perfect gift to spark a lifelong love for science and engineering and provide a deeper understanding of machinery and robotics.
Use Industrial-grade Circuit Board
The technology used in the Creality Ender-3 3d printer is quite mature and stable.
It can work continuously for 200 hours without pressure.
Also, Creality Ender-3 3D Printer allows it to resume printing after power-off or lapse occurs and with thermal runaway protection itself.
Stable Printing with Creality Ender-3 3D Printer
Patented technology, V-Slot+precision pulley, running more smoothly, more wear-resistant. Effectively reduce noise.
MK8 Technology Adopted in this FDM 3D Printer
MK8 extrusion mechanism is used, a brand-new patented infrastructure that effectively reduces the risk of plugging and poor spillage and can print almost all filaments on the market.
CNC machining of the Y-rail mounting groove to make sure precise positioning and keep the solid frame with the high-precision printing quality.
And big hand twist nut, make the print platform easier to level.
Creality Ender-3 3D Printer can Reach 110℃ for hotbed in about 5 minutes.
Meet the needs of fast heating, and printing ABS suggested to be with a 3d printing enclosure to reduce the heat dissipation.
Technical Specifications
Ender-3 FDM 3D Printer Properties
Modeling Technology: FDM(Fused Deposition Modeling)
Printing Size: 220x220x250mm
Printing Speed: 180mm/s
Filament: 1.75mm PLA, TPU, ABS
Working Mode: Online or SD offline
File Format: STL,OBJ,G-code
Ender-3 FDM 3D Printer Hardware
Machine Size: 440x440x465mm
Net Weight: 8KG
Power Supply: 100-265V 50-60HZ
Output: 24V 15A 270W
Ender-3 FDM 3D Printer Extruder Hardware
Layer Thickness: 0.1-0.4mm
Nozzle Diameter: 0.4mm
Printing Accuracy: ±0.1mm
Nozzle Temperature: 255℃
Hotbed Temperature: 110℃
Ender-3 Series Compare
Dual Extruder on Creality Ender-3: How to Achieve This Amazing DIY Upgrade?
Ender-3 VS Ender-3 Pro- The Difference
Ender-3 VS Ender-3 Pro VS Ender-3 V2: The Differences
Live Chat Support:
Creality Support can be reached via phone, live chat, email, Forum, or through submission of a support request through their online support page.
Creality Ender-3 3D Printer Wholesale & Resell
As one of the professional 3D Printer Manufacturers & Suppliers in China, Creality only sells 3d printer products like Ender-3, Ender-3 V2, Ender-3 Pro with high quality.
It is only delivered after highly tested and inspected by Creality IQC(Quality Control Inspector).
Our quality control teams keep our warehouse consistently fresh while maintaining the largest in-stock selection of wholesale 3d printer.
Creality Ender-3 3D Printer has earned such a success since it's released, as its' high quality & acceptable price for beginners.
It is quite a product suitable for business start-ups or leading manufacturers.
Creality today offers official 3d printers at wholesale prices and provides authorized certification to sell both 3d printers and filaments.
Feature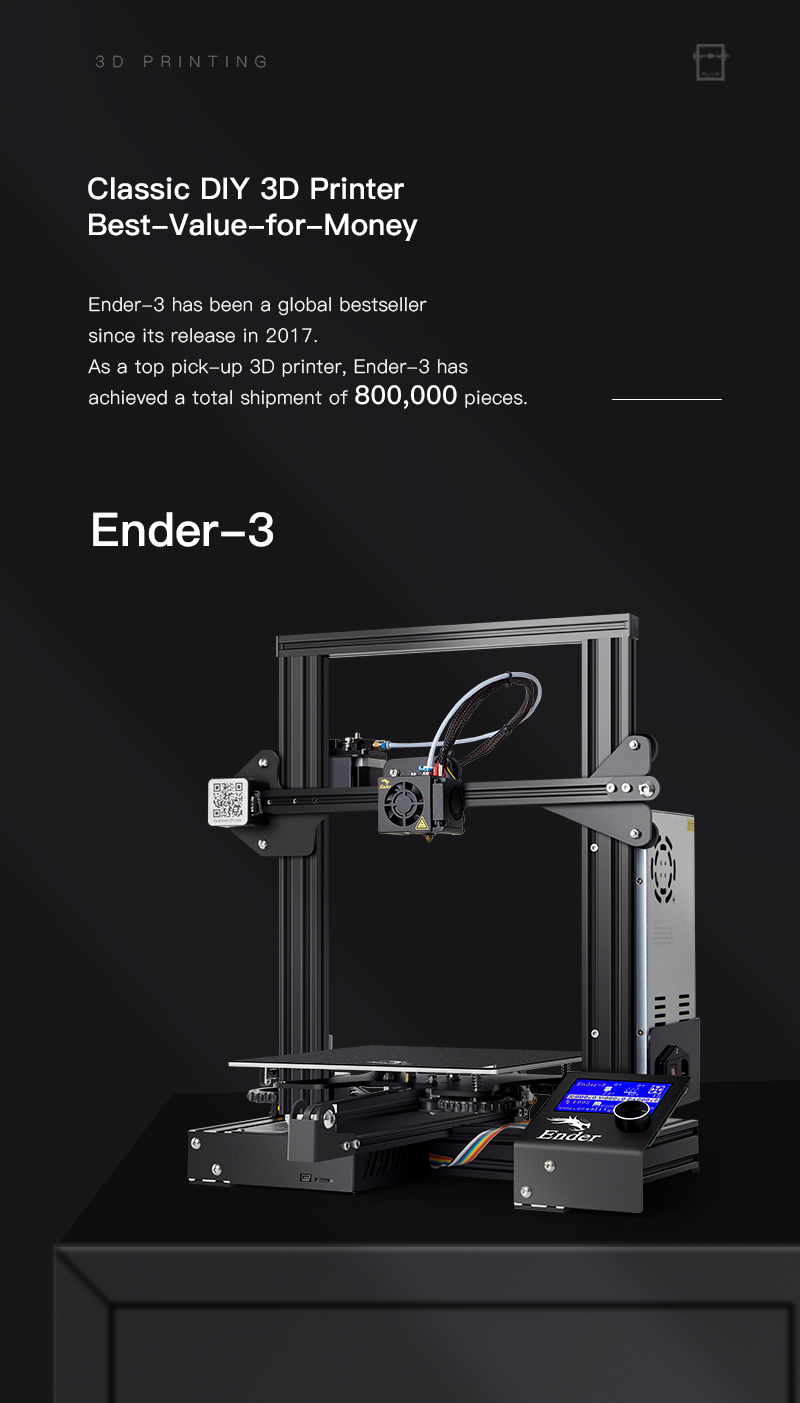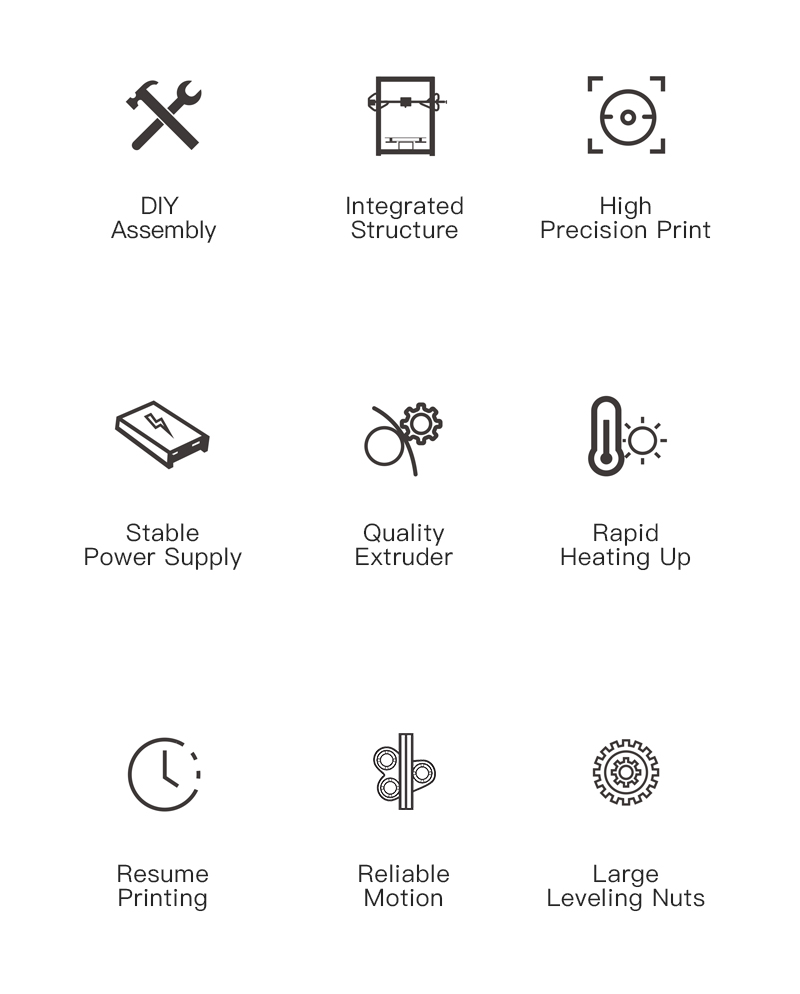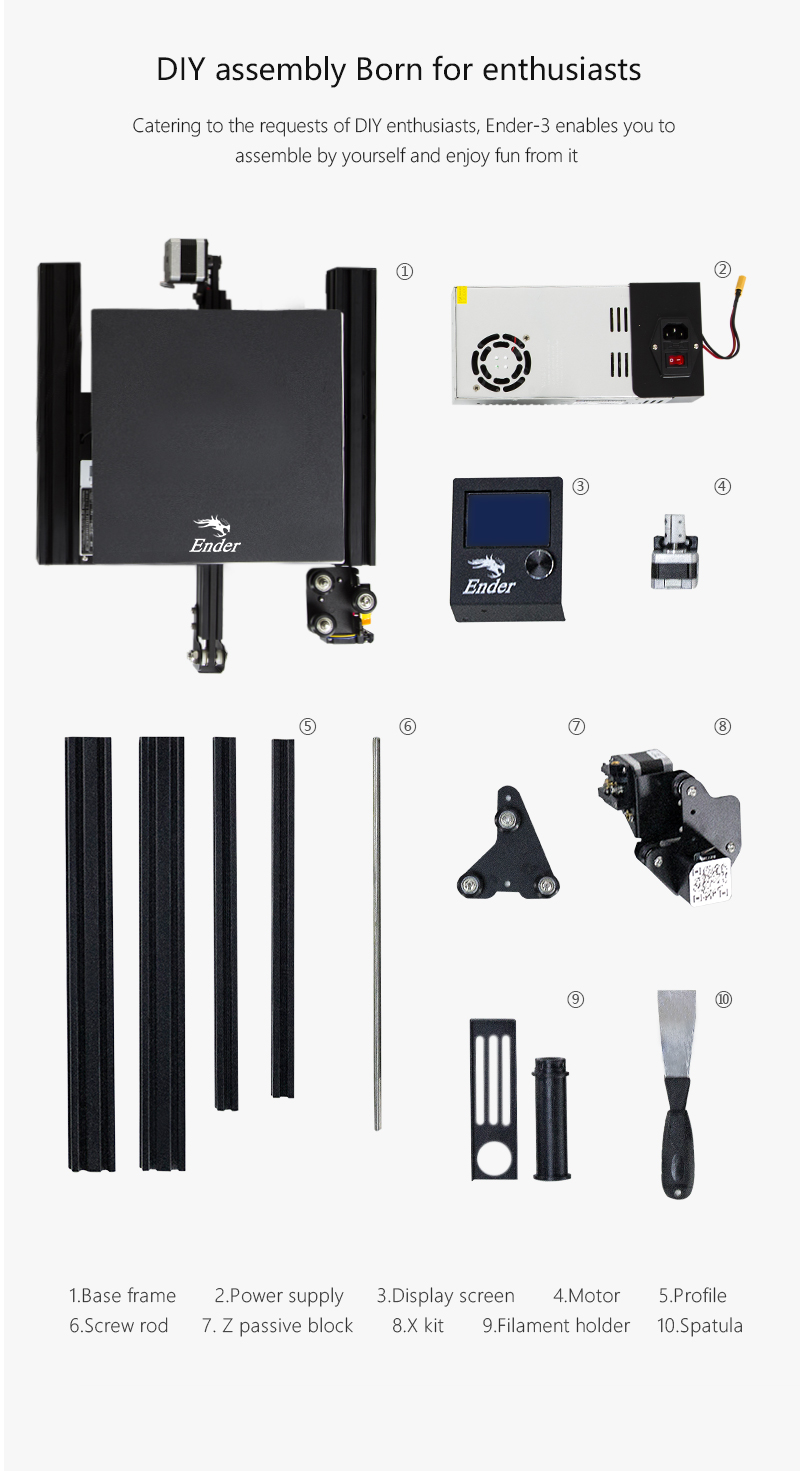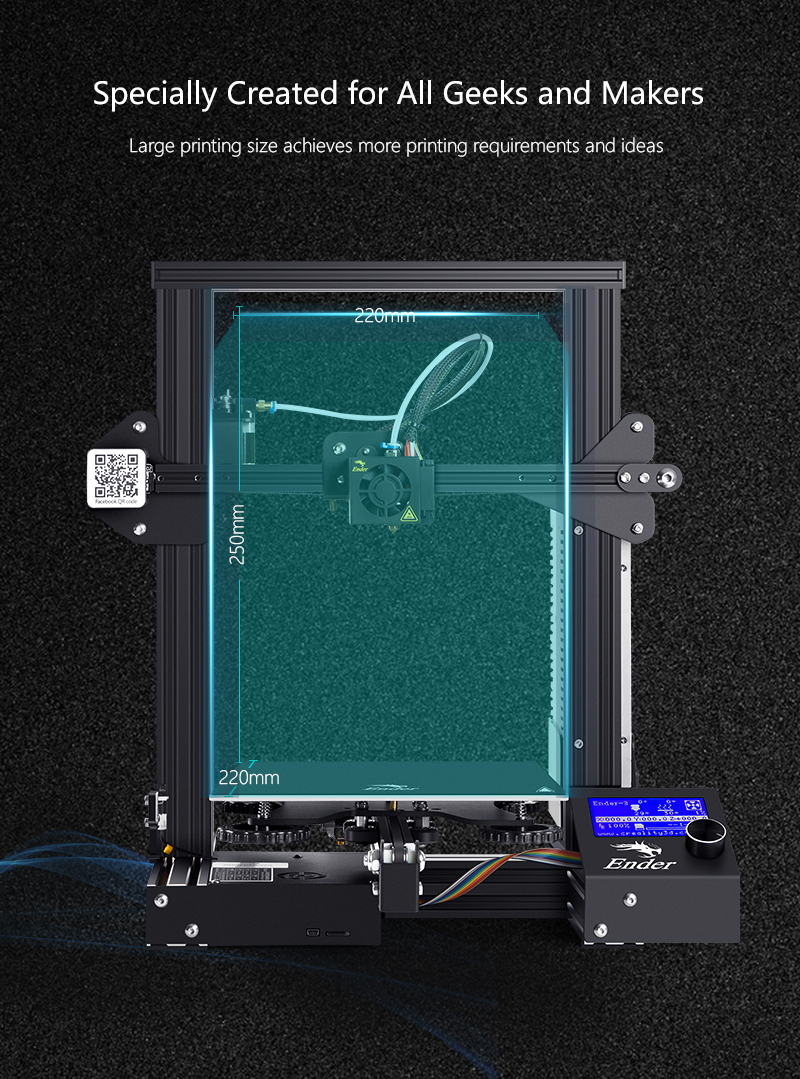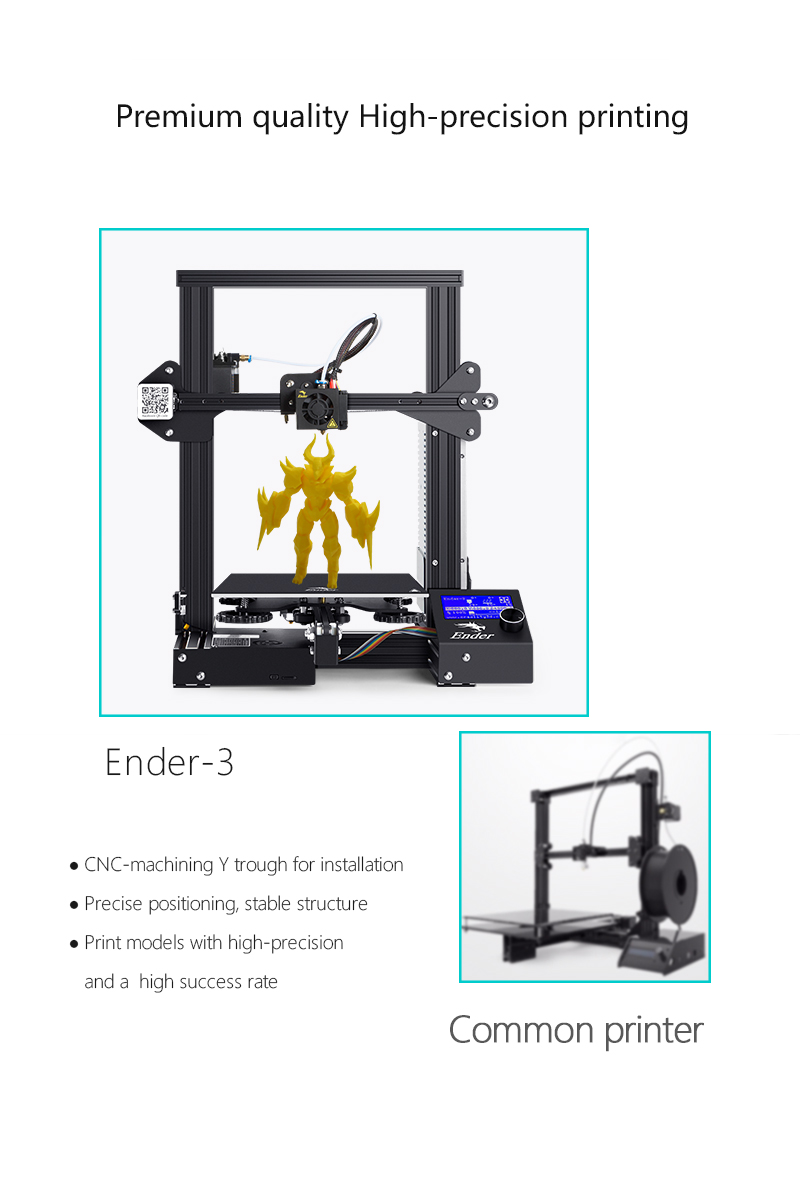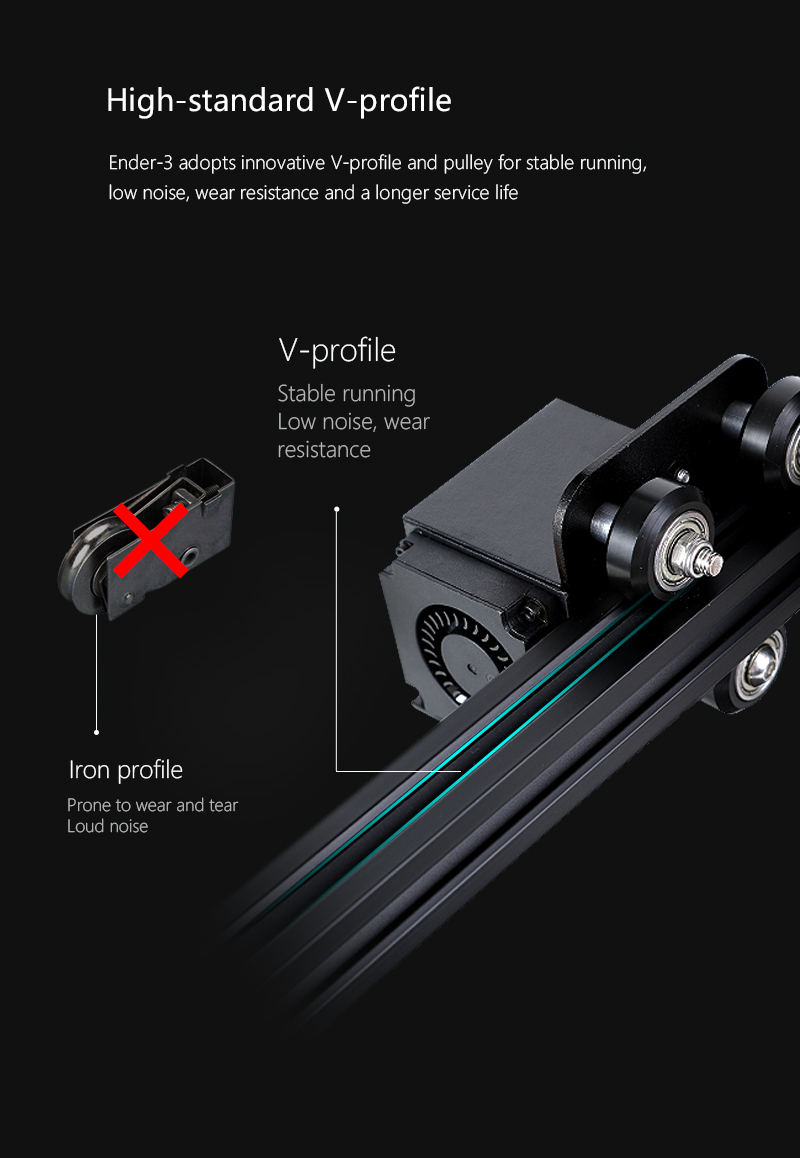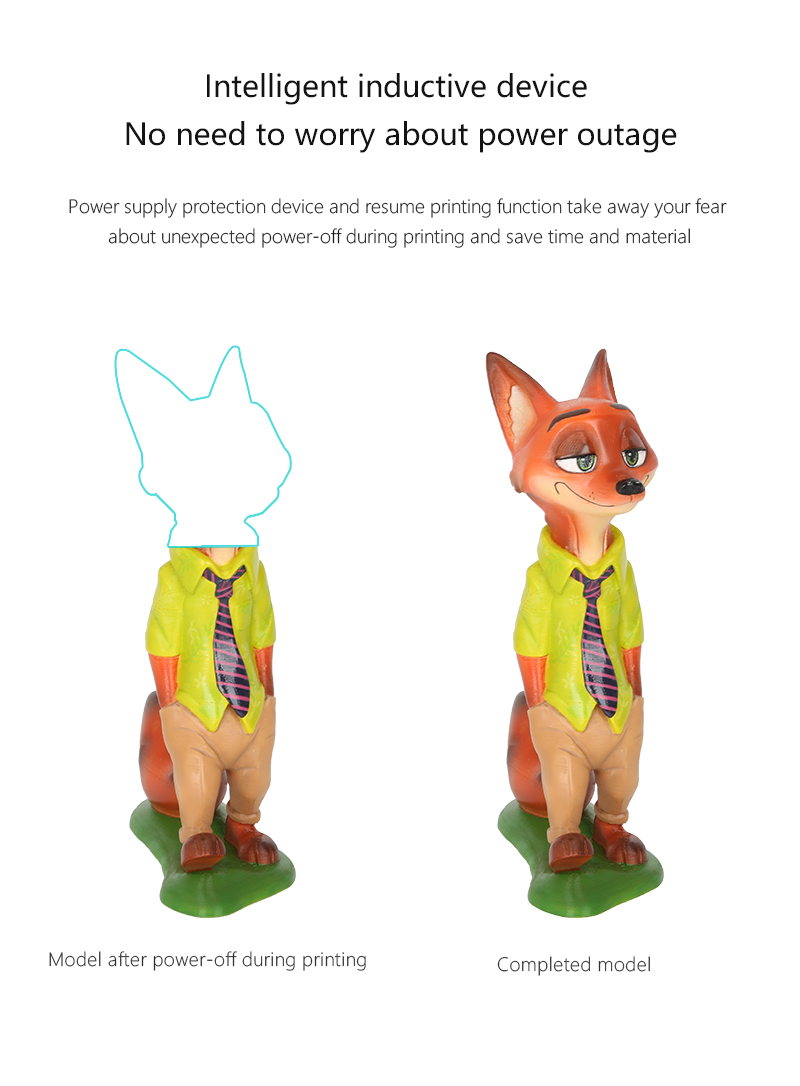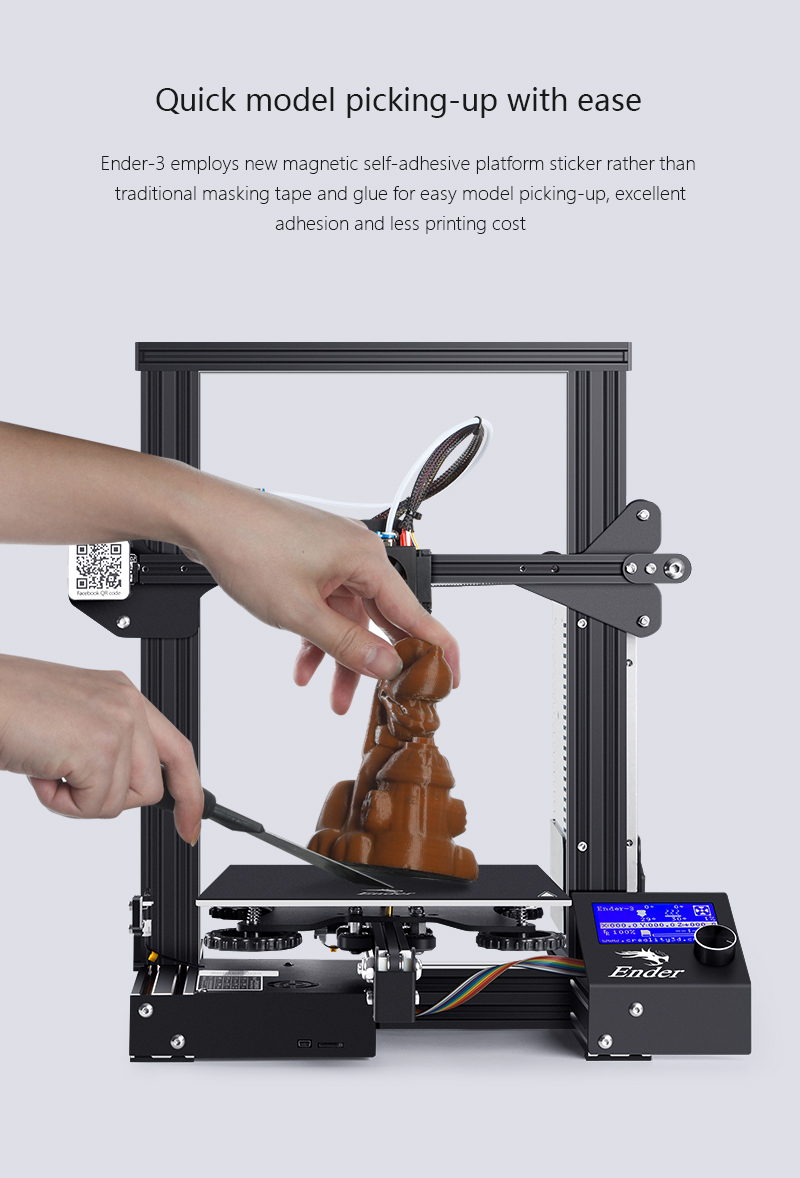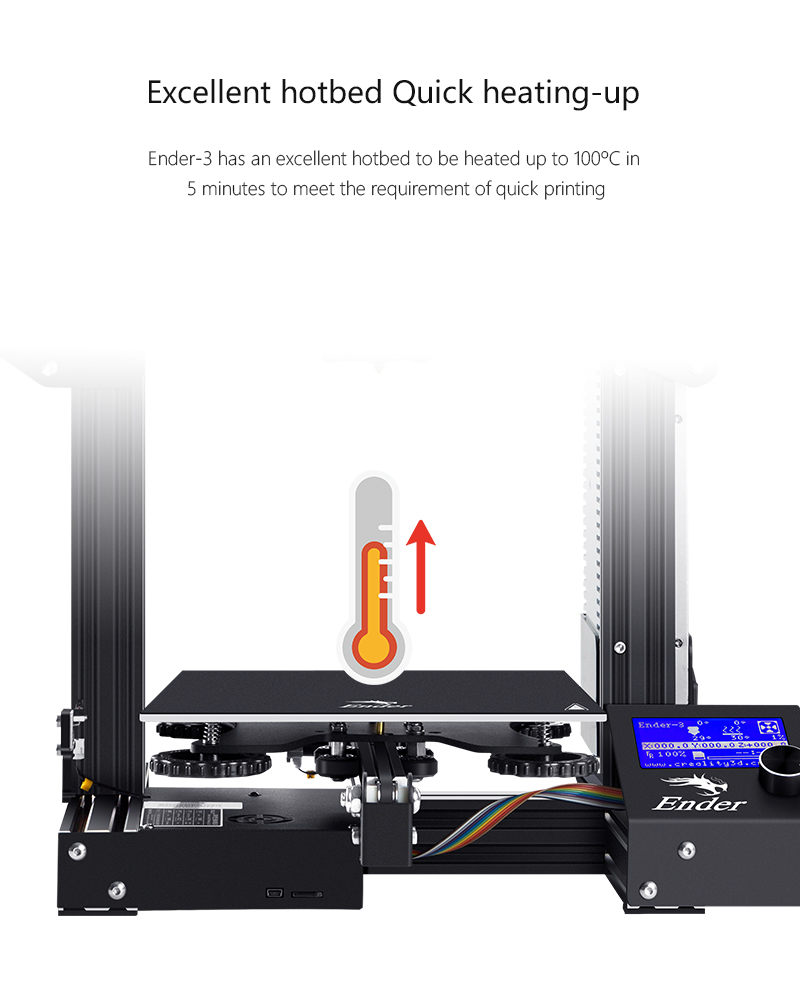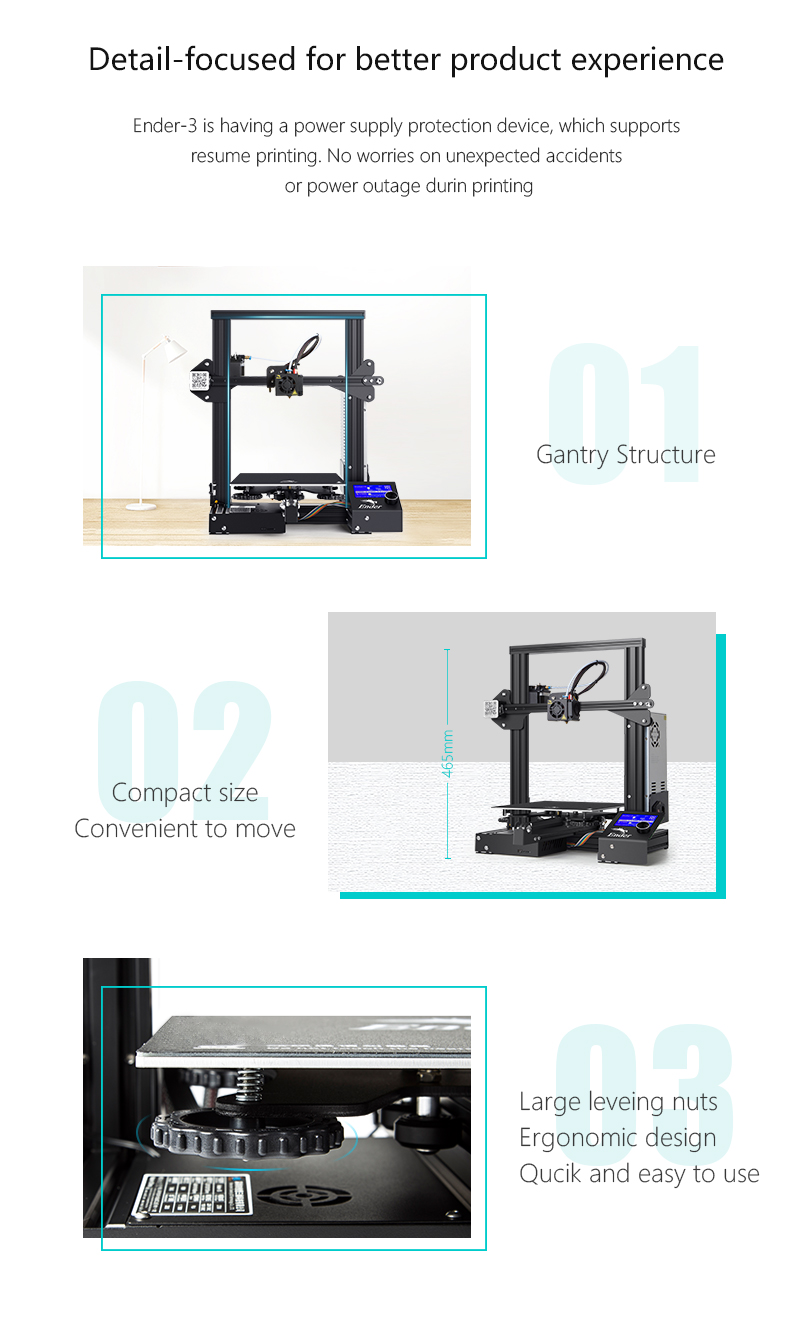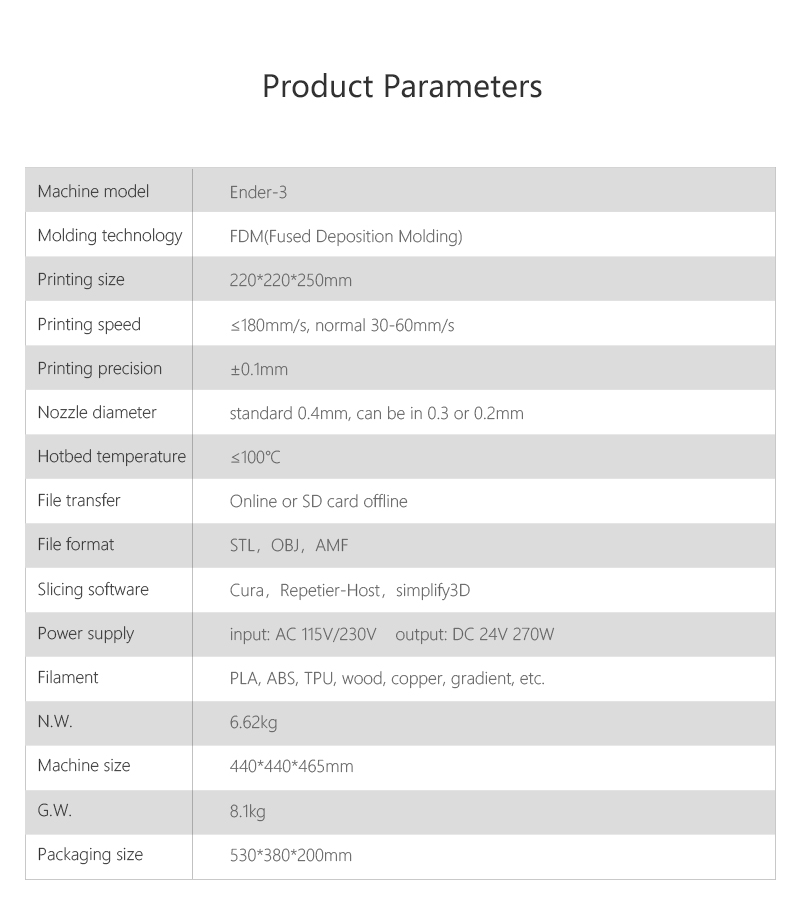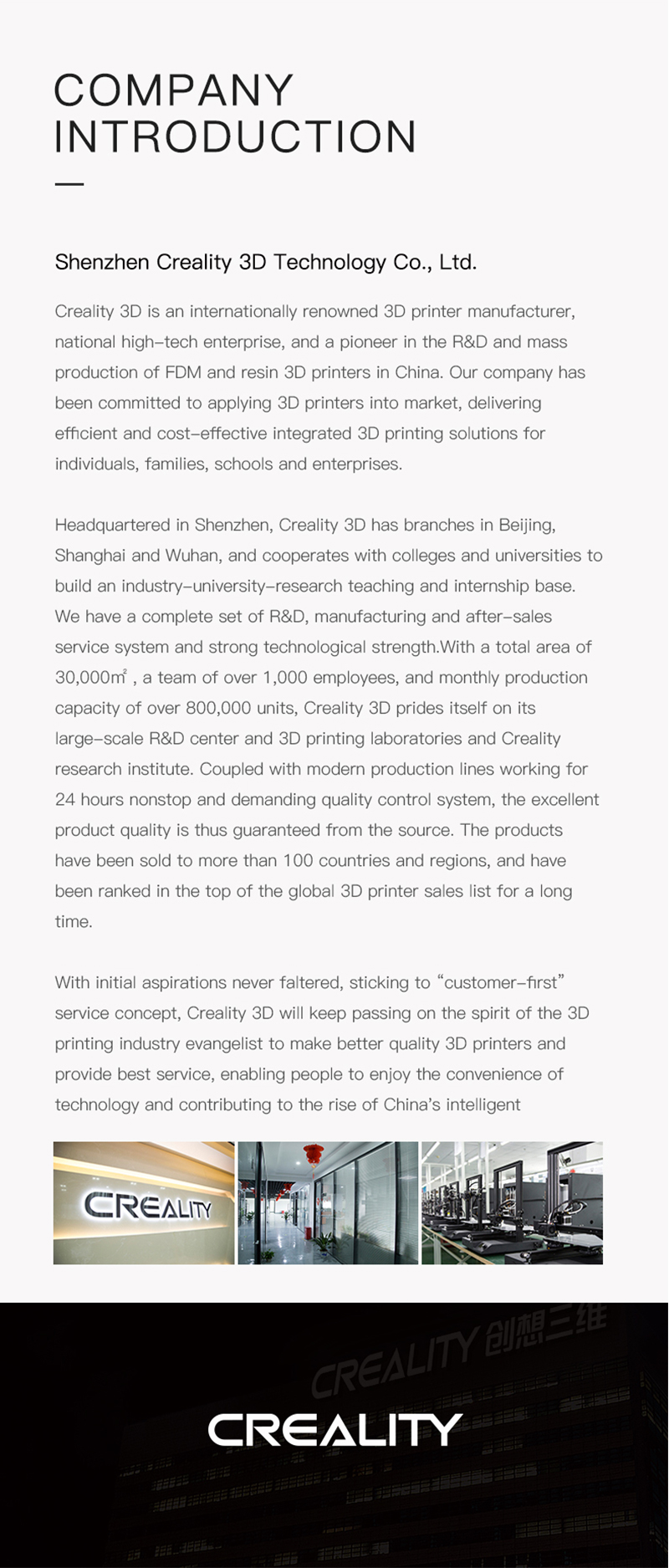 Video
The Creality Ender-3 features a modestly sized heated print bed that measures 220 x 220 x 250mm, which is nearly double that of the Ender 2.
Atop the platform is a BuildTak-like print bed sticker, which should mean fewer prints coming unstuck from the bed mid-print.
Review
Creality Ender-3 3D Printer User Review
John
Great 3D Printer
I received my Creality Ender-3 3d printer about two weeks ago and it arrived in perfect condition. After carefully assembling it and leveling the bed following some YouTube videos, I printed my first Benchy! It printed outstanding, with nice quality!
Since then, each of my prints has printed flawlessly. Needless to say, I am very happy with this purchase, and Creality has designed and manufactured a great printer at a very reasonable price! The key to success is to carefully assemble it using great resources online and on YouTube. There is a huge population of Creality users online and most are more than happy to help.
Patricio Cordero Pizarro
Great Experience
I did the research for a goo Quality Price printer, so I get to the Creality Ender-3 3d printer
I hade some troubles with the assemble, instructions are not really easy, but not that hard, have a picture of the finished product near, after that and the trick o using an A4 paper to level, I started printing and the results are great, easy to use good results. I'm very satisfied with it
ALL3DP
One of the most appealing features of the Creality Ender-3 is its incredibly low price point. While the cost slightly varies depending on the provider you purchase it from, this 3D printer can currently be found for under $199. At the moment, in some online stores, the Creality Ender-3 is cheaper than its predecessor, aptly named the Ender 2.
The differences in design between the Creality Ender-3 and Ender 2 are slight, but still worth mentioning. The latest iteration still retains its CR-10 vibe, with aluminum extrusions comprising the frame and a single leadscrew driving the Z-axis from the left-hand side of the frame.
However, unlike its forebear, which featured a cantilever style that left the X-axis rail projecting into thin air, the Creality Ender-3 completes the loop and closes the frame out.