Creality CR-5 Pro industry 3D Printer| 300*225*380MM| Multiple materials supported| Silent motherboard with ATMEL 2560 master chip | 24V/ 350W Brand power supply| Carborundum glass print bed
Specifiction
Creality CR-5 Pro FDM 3D Printer 
Creality CR-5 Pro is outfitted with a silent motherboard with an ATmega2560 control chip to guarantee smooth operation and thermal equality.
In combination with the powerful 24V 350W MeanWell brand power supply, the CR-5 Pro FDM 3D Printer should be able to heat up quickly.
CR-5 Pro FDM 3D Printer Features
More Material Choices Supported:Creality CR-5 Pro 3d printer is the upgraded version of the Creality CR-5 3d printer, but it's Nozzle temperature now can up to 250℃ and hotbed temperature up to 100℃.
The enclosure chamber structure will help keep interior printing temperature for more material applications, allows you to print with 3D Printing material like PLA, PETG, and especially TPU and ABS.
Tempered Glass Print Bed:Creality CR-5 Pro 3d printer with Carborundum glass platform installed, prints adhere better and remove easier, resulting in the flat first layer as well.
Large Print Size:Creality CR-5 Pro 3d printer within the print volume of 300*225*380MM, there will be greater creative ideas turning into reality and creations.
Smart Supportive Functions:As well as the Filament runout sensor and resume printing mode, the Creality CR-5 Pro 3d printer is equipped with a smart LED light reminder to indicate the real-time printing process.
Technical Specifications
CR-5 Pro FDM 3D Printer Properties
Modeling Technology: FDM(Fused Deposition Modeling)
Print Size: 300x225x380mm
Filaments: PLA/ABS
File Format: STL/OBJ/AMF
CR-5 Pro FDM 3D Printer Hardware
Machine Size:530x487x612mm
Package Size:625x545x710mm
Machine Weight:32.5kg
Net Weight: 38.8kg
Nominal Voltage: 115/230V
Output Voltage:24V
CR-5 Pro FDM 3D Printer Extruder Hardware
Layer Height: 0.1-0.4mm
Product Article:
Creality CR-5 Pro: Desktop-sized Consumer 3D Printer Capable of Delivering Industrial-grade Prints
Feature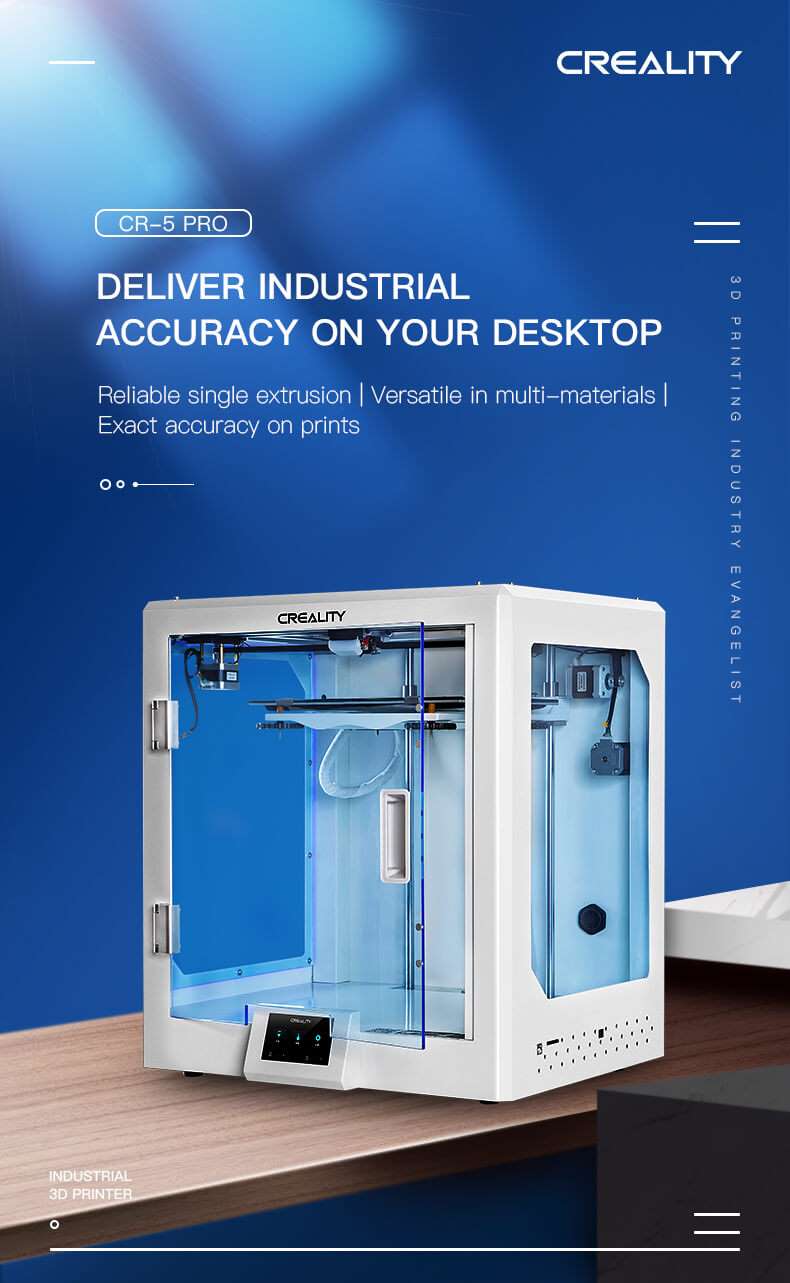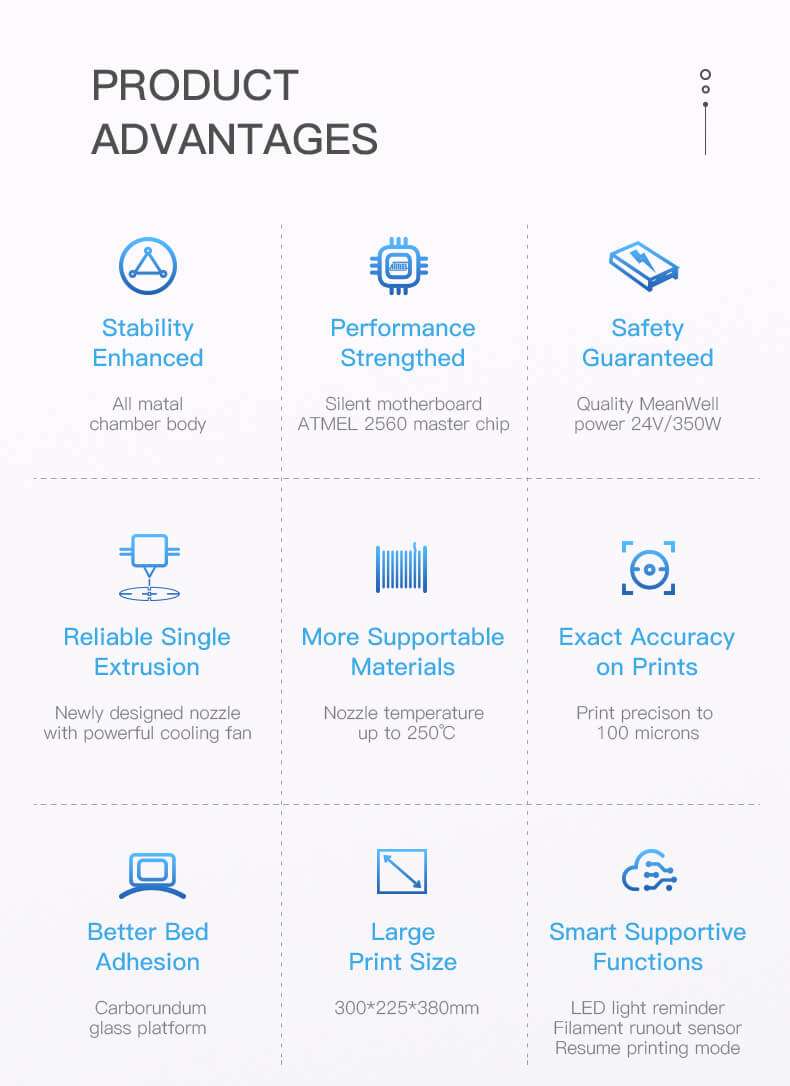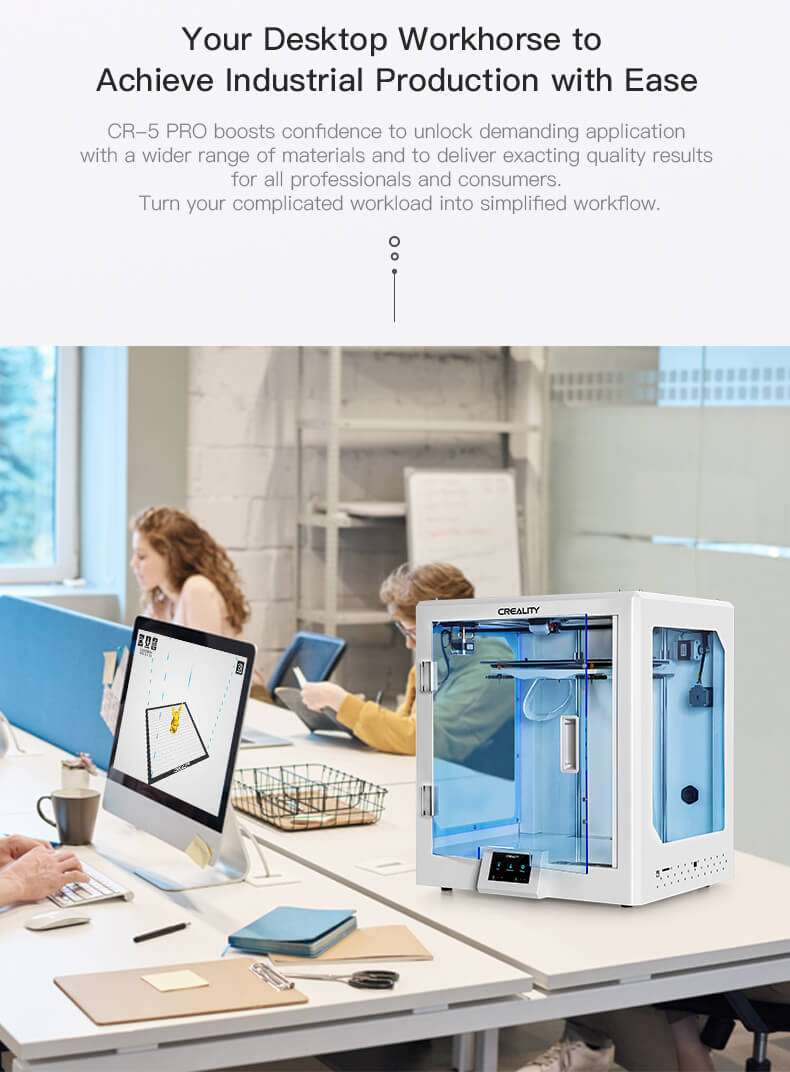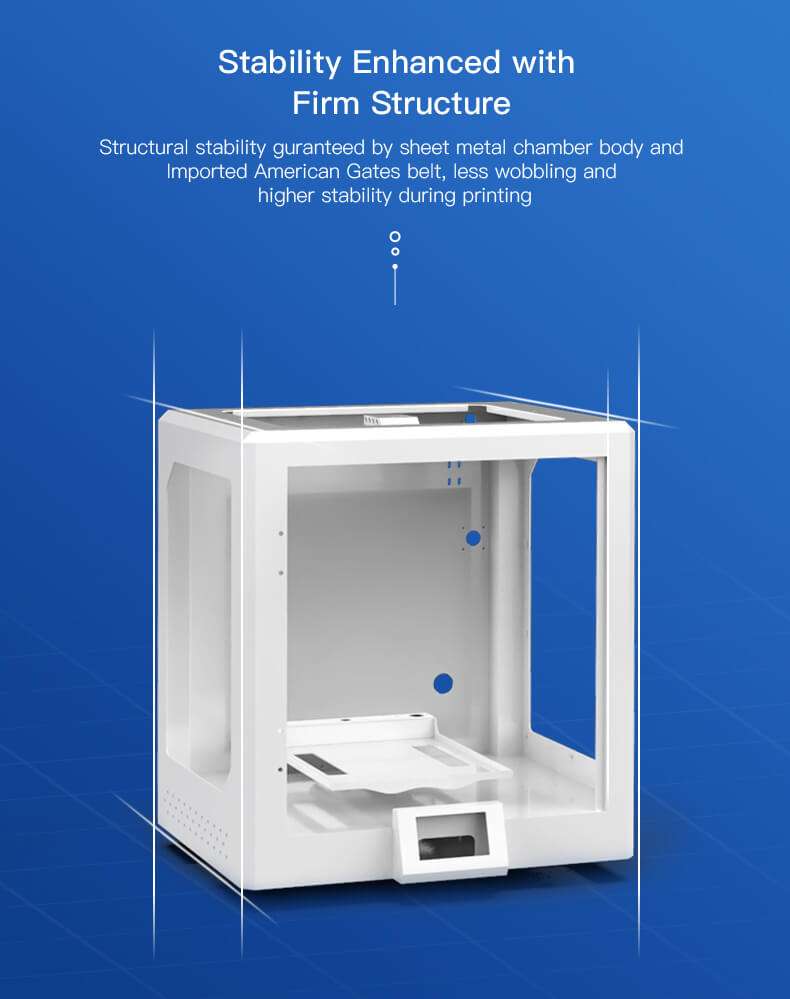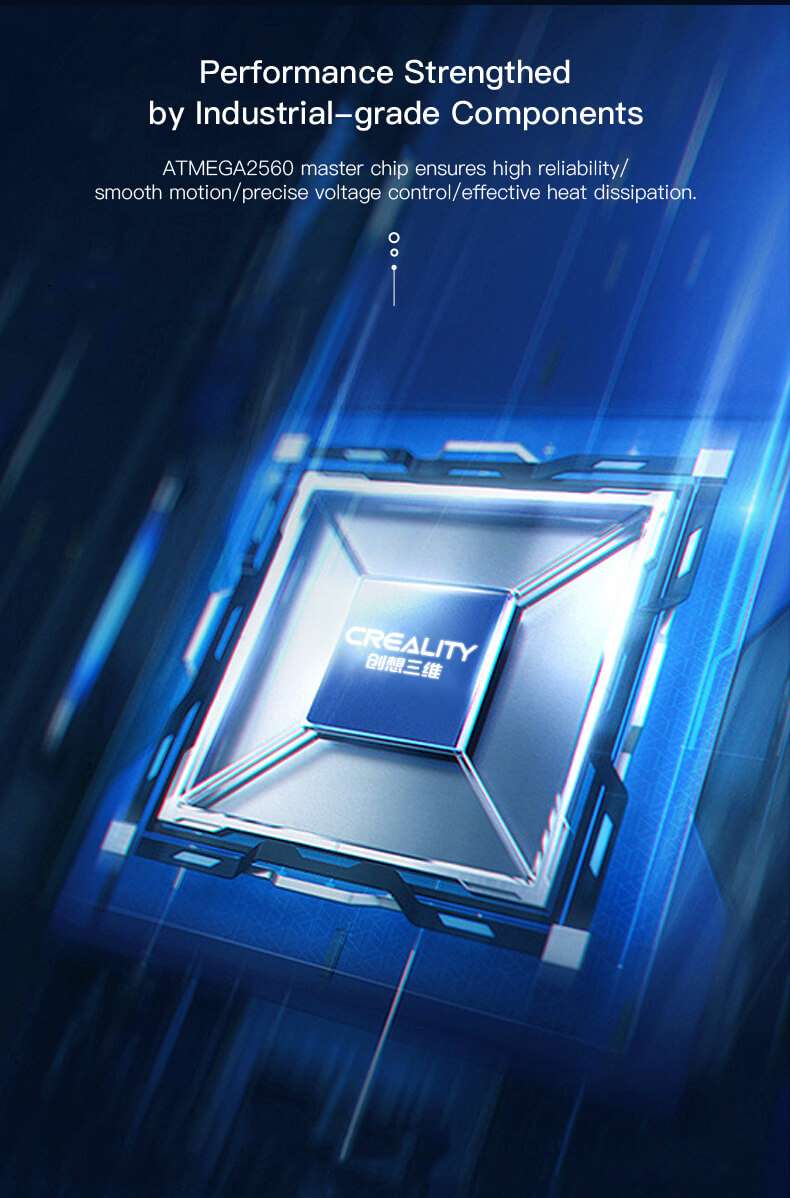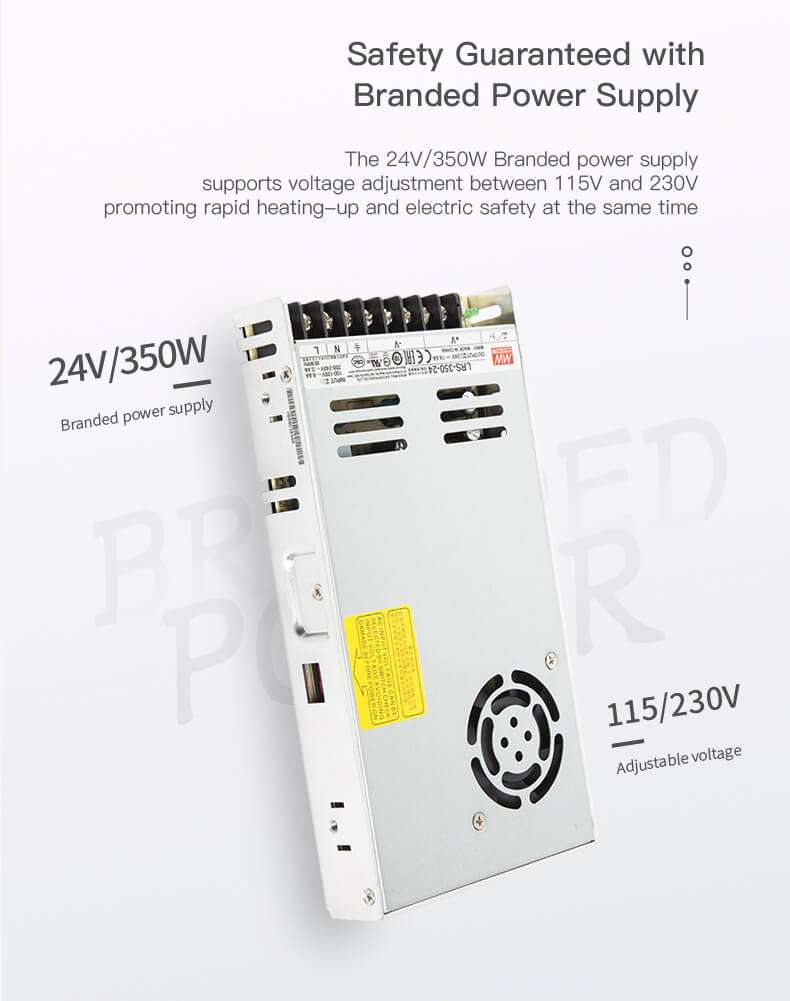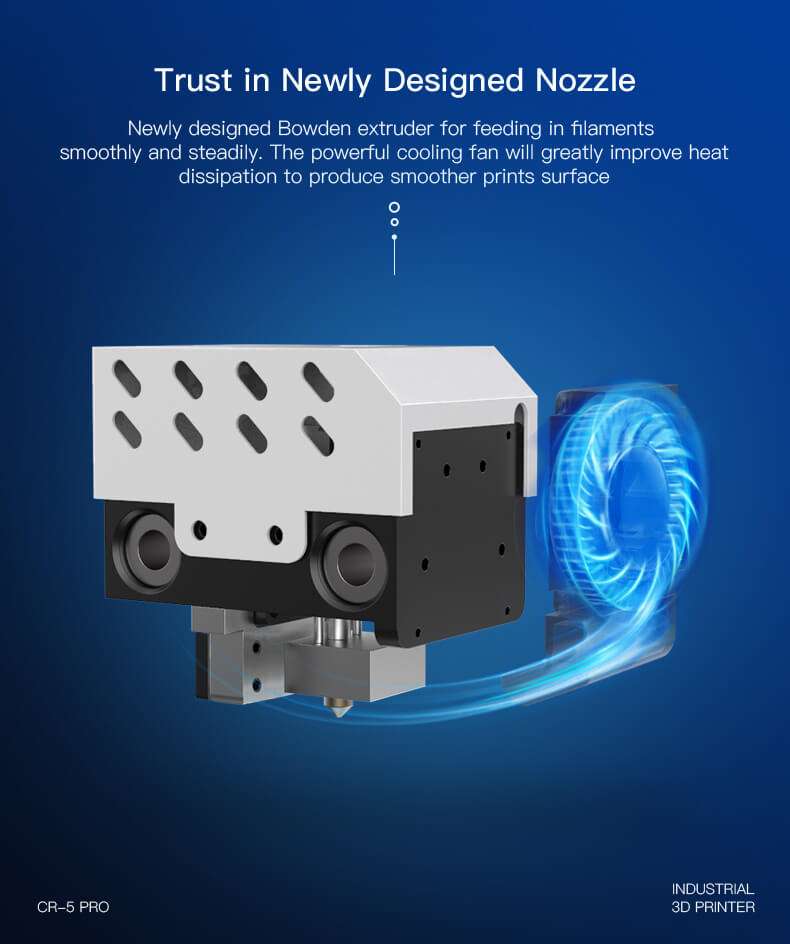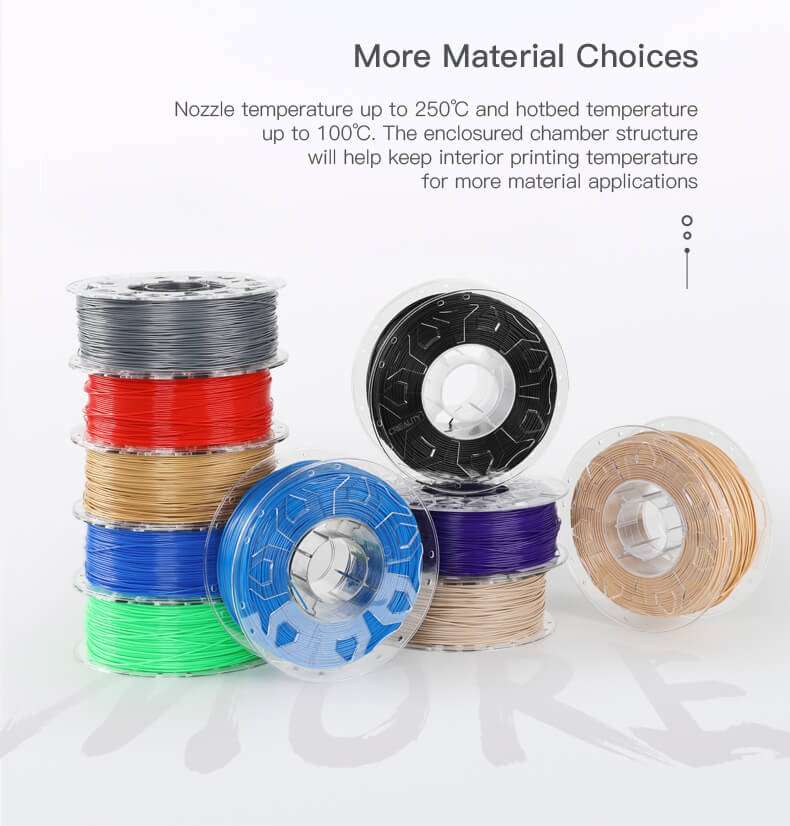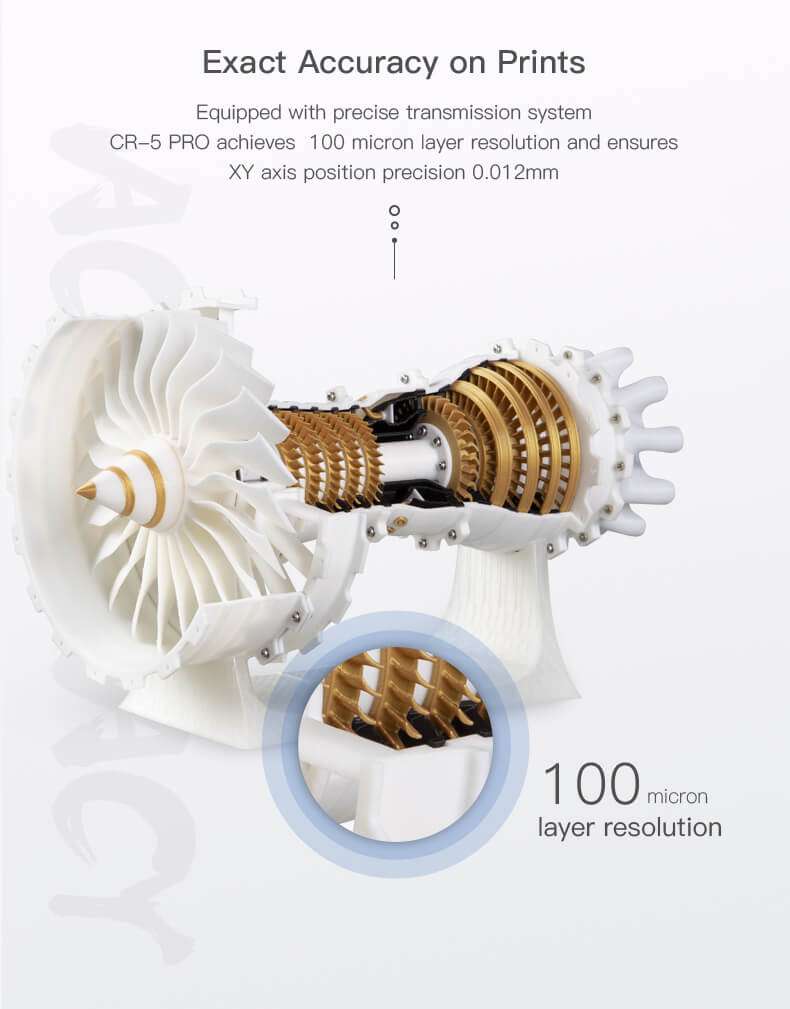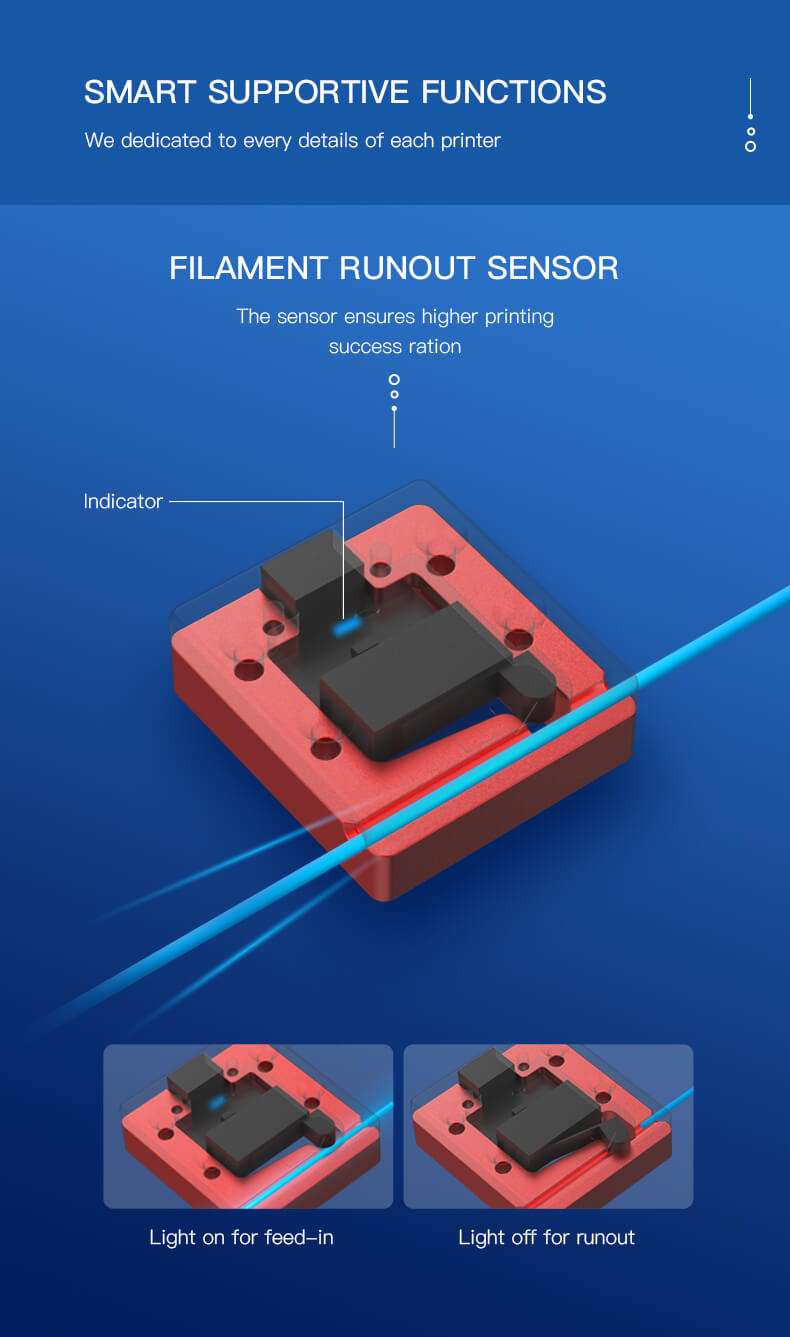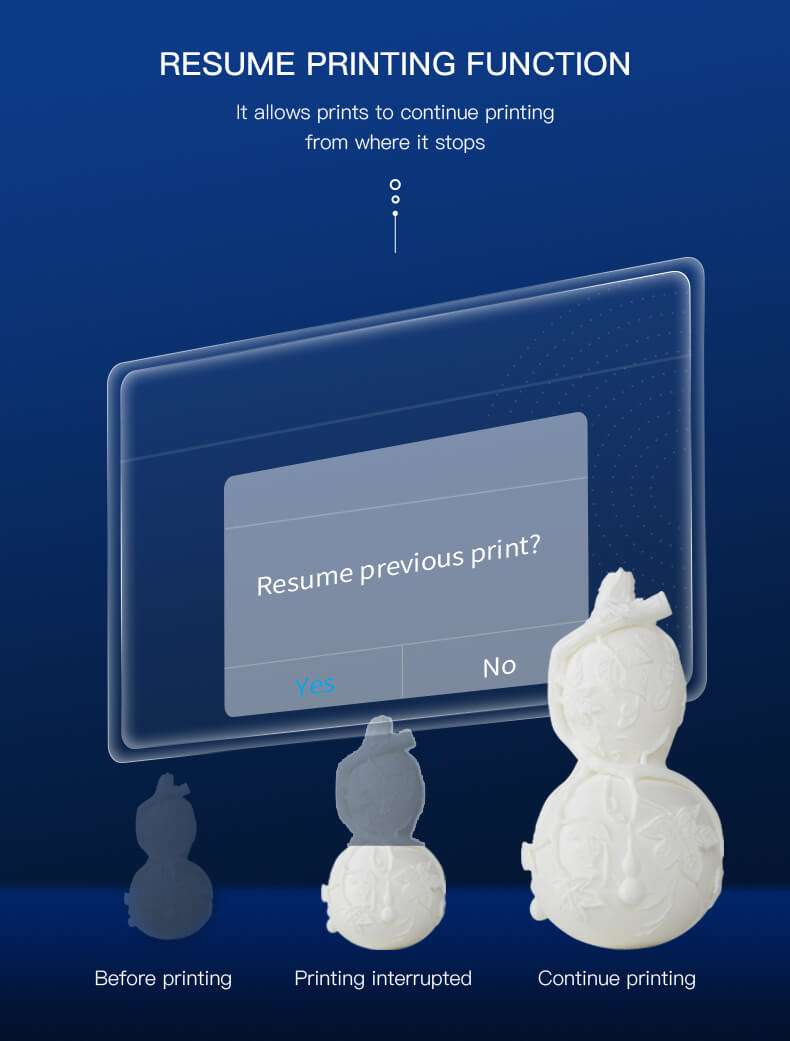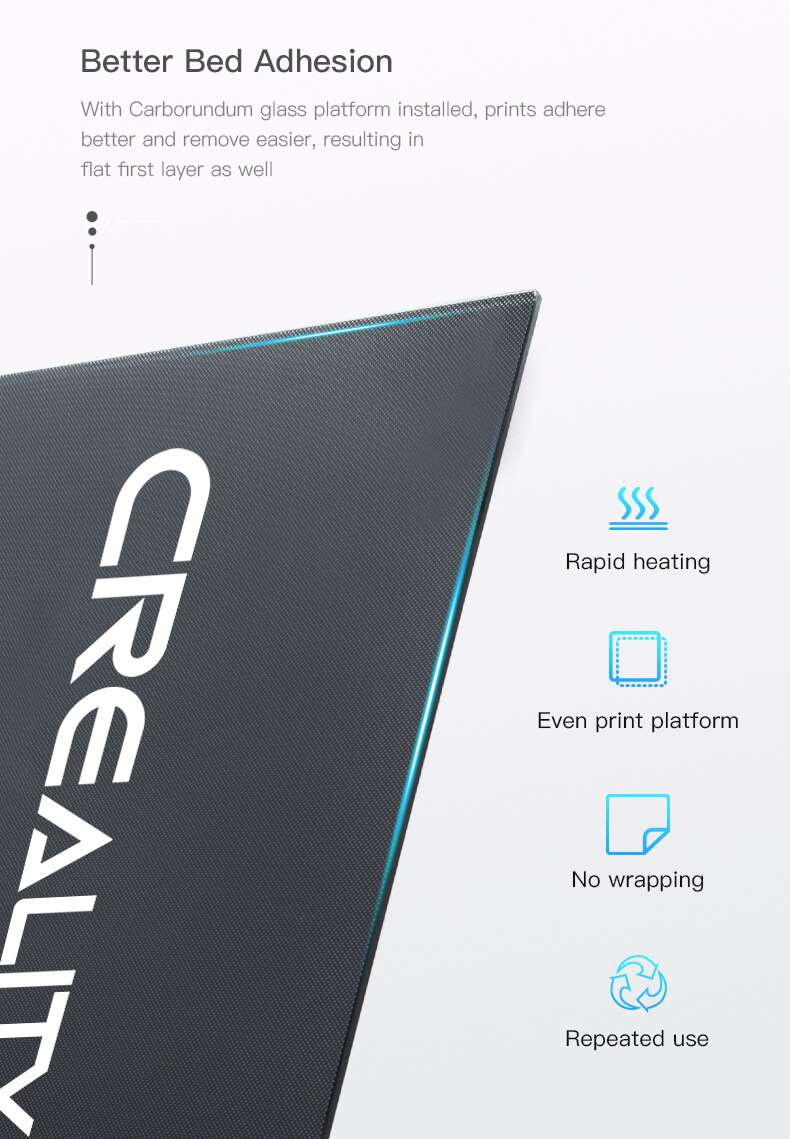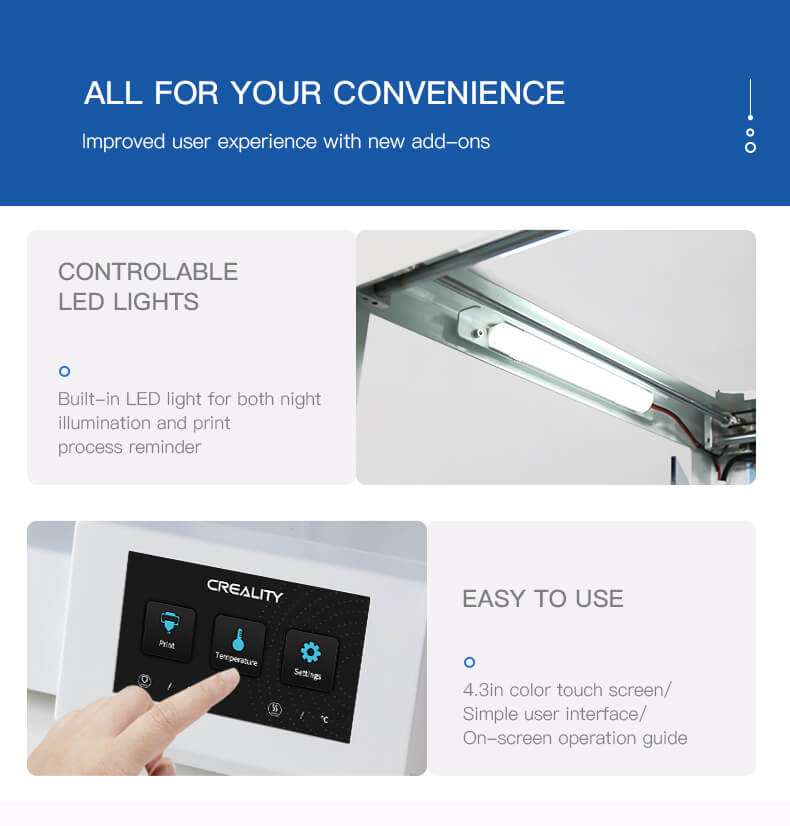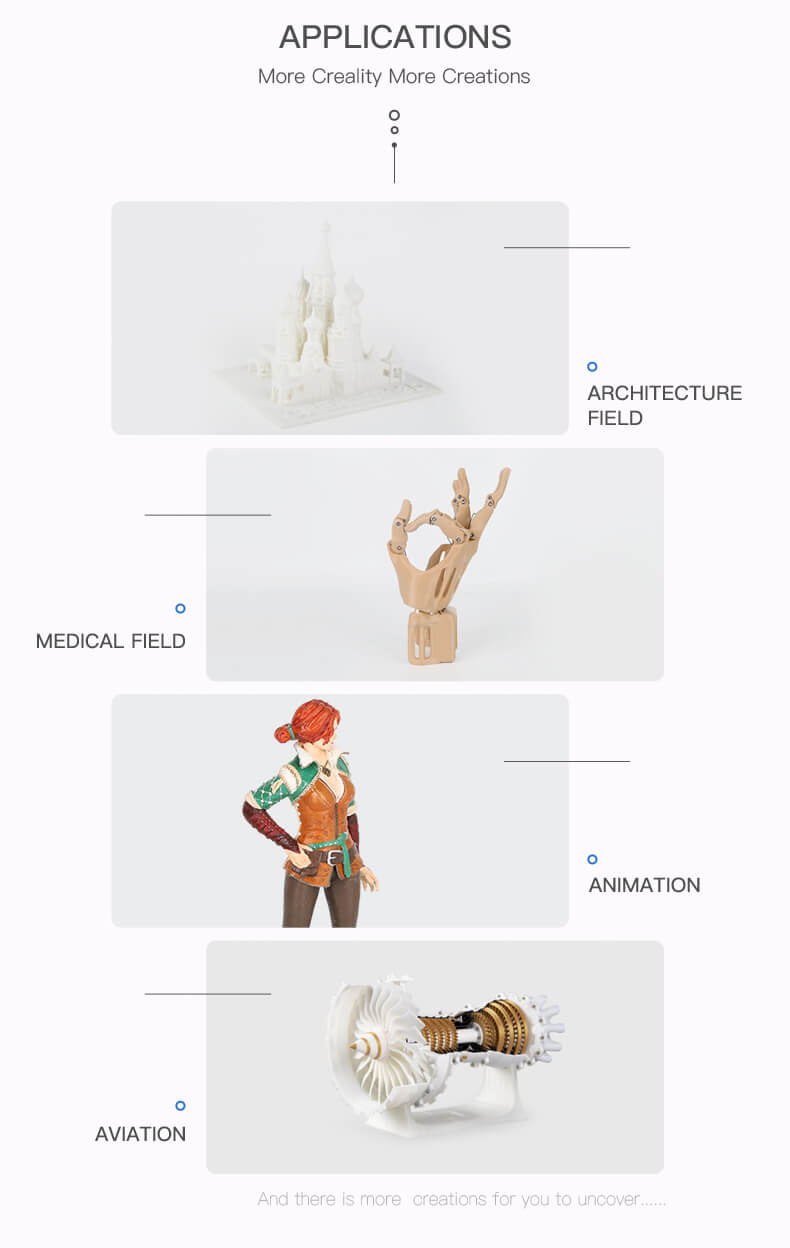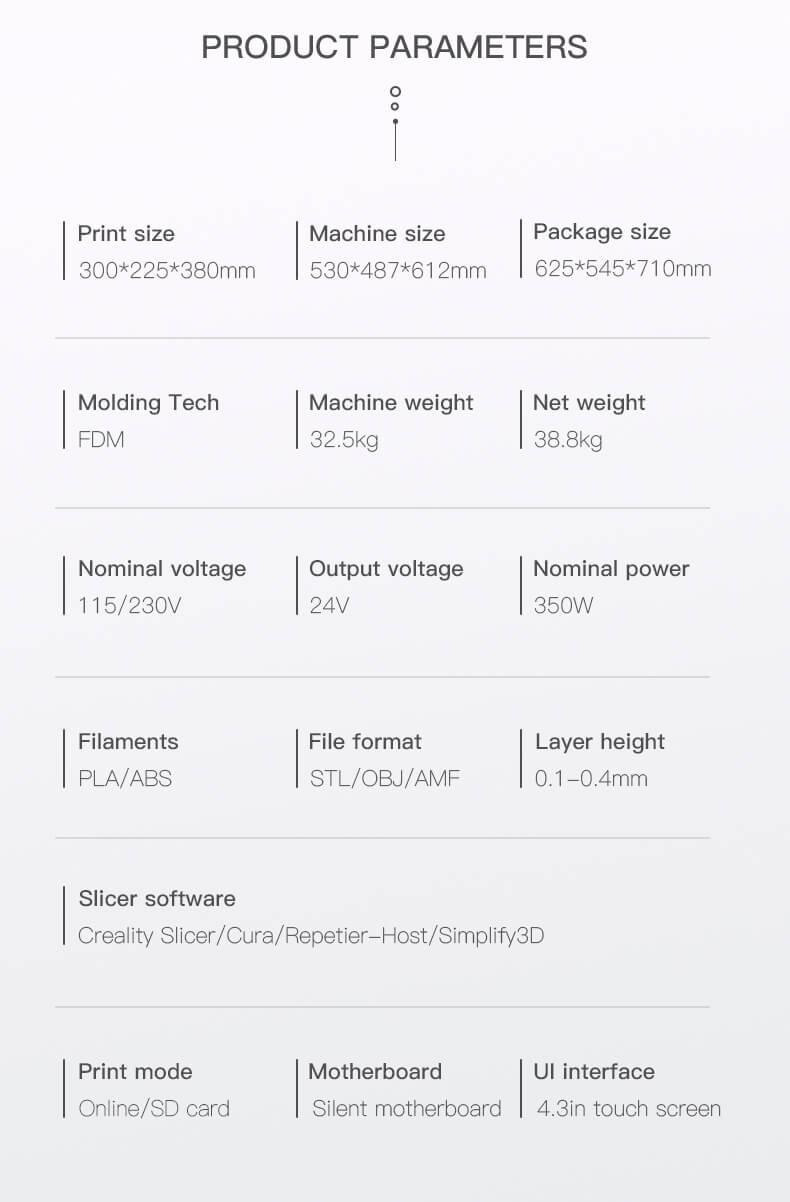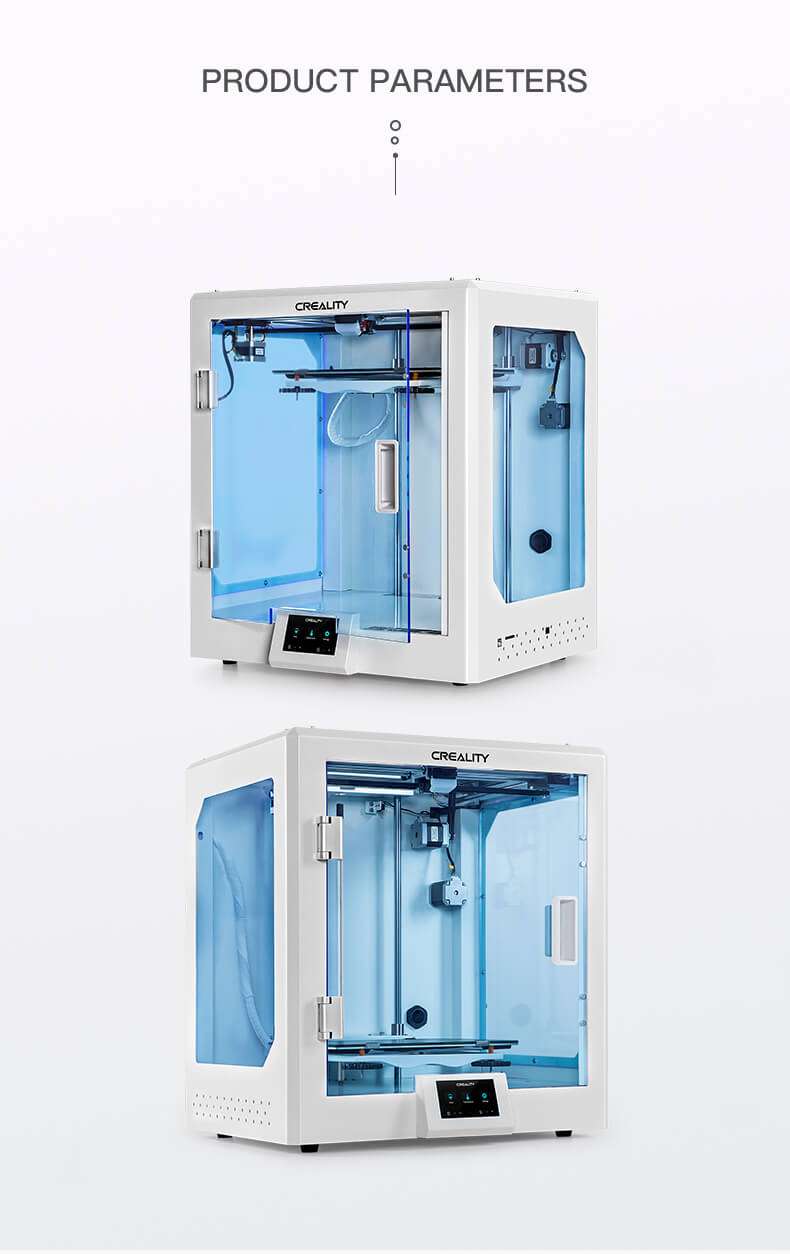 Video
Creality CR-5 Pro, which offers a 300 x 225 x 380 mm build volume embedded in an all-metal frame and acrylic enclosure. The machine is targeted towards schools, work environments, and individual makers.
Review
"Creality advertises its CR-5 Pro to have a newly designed Bowden extruder, which guarantees a smoother and steady feeding of filament and should allow the printer to process flexible filaments better. The also-upgraded parts cooling fan promises better heat dissipation and generally should lead to better surface finish. " -ALL3DP