Creality CR-10 Max DIY 3d printer | 450*450*470mm | Golden triangle for better stability | rapid heat-up of entire platform |100% real heating size | imported Capricorn Teflon tube | double drive for rapid feeding.
Specification
Creality CR-10 MAX 3D Printer Advantages
【Massive Printing Volume】Creality CR-10 MAX 3d printer printing size is 450*450*470mm, larger than CR-10 3D printer, super large molding size to meet diverse printing requirements
【Smooth Feeding】Creality CR-10 MAX 3d printer, bond tech gear extrusion structure designed, double drive gears for a strong thrust and high extrusion and feeding performance.
【Automatic Leveling】Creality CR-10 MAX 3d printer imported Bl Touch included for 16 points fast leveling, more friendly UI designed.
【Two Power Supplies Added】Creality CR-10 MAX 3d printer, two power supplies with wide voltage: Two power supplies for motherboard and hotbed by way of two-way output, synchronous power supply for the quick response, and stable operation.
【More Stable Printing】 Creality CR-10 MAX 3d printer, golden triangle to reduce Z-axis vibration for high large-size printing precision; Y-axis double transmission belts and a double-axis motor with strong momentum for stable transmission and printing precision.
【Filament Sensor】Creality CR-10 MAX 3d printer, automatic suspension when materials run out, break up or run into other abnormalities for energy conservation and consumption reduction
【Imported Capricorn Bowden Teflon tube】Creality CR-10 MAX 3d printer, blue high-temperature resistant Capricorn Teflon tube without being easily blocked for smooth feeding and printing efficiency
【Resume Printing Function】Creality CR-10 MAX 3d printer, automatically save printing records, continue printing after power-on for a high model printing success rate.
Feature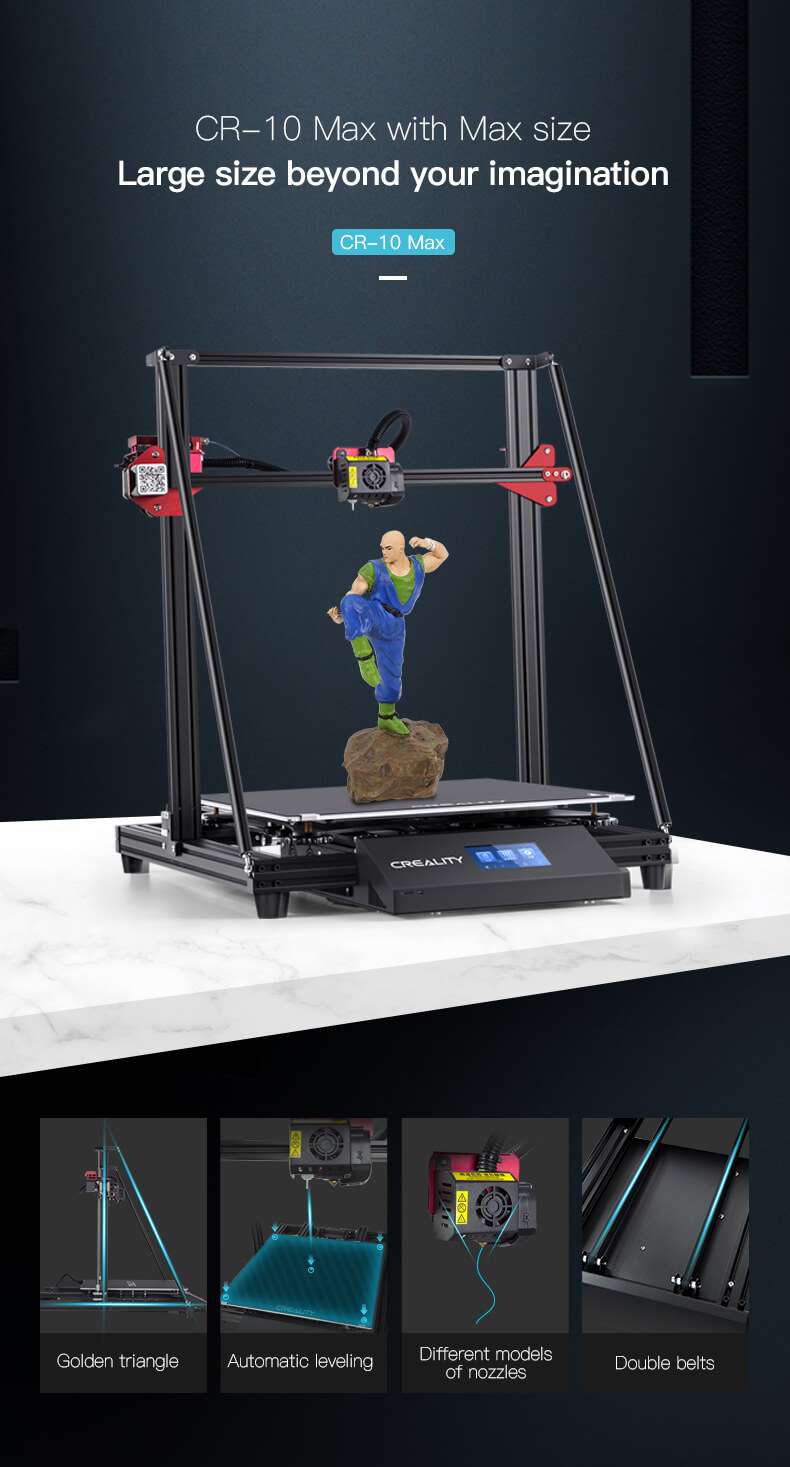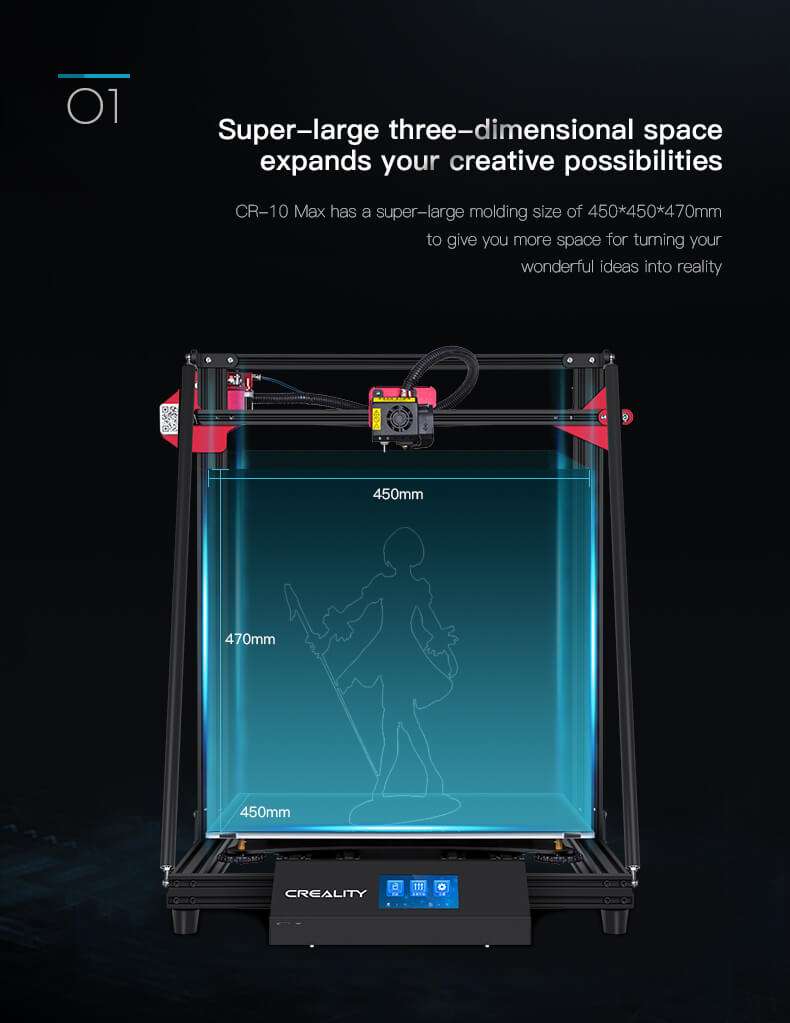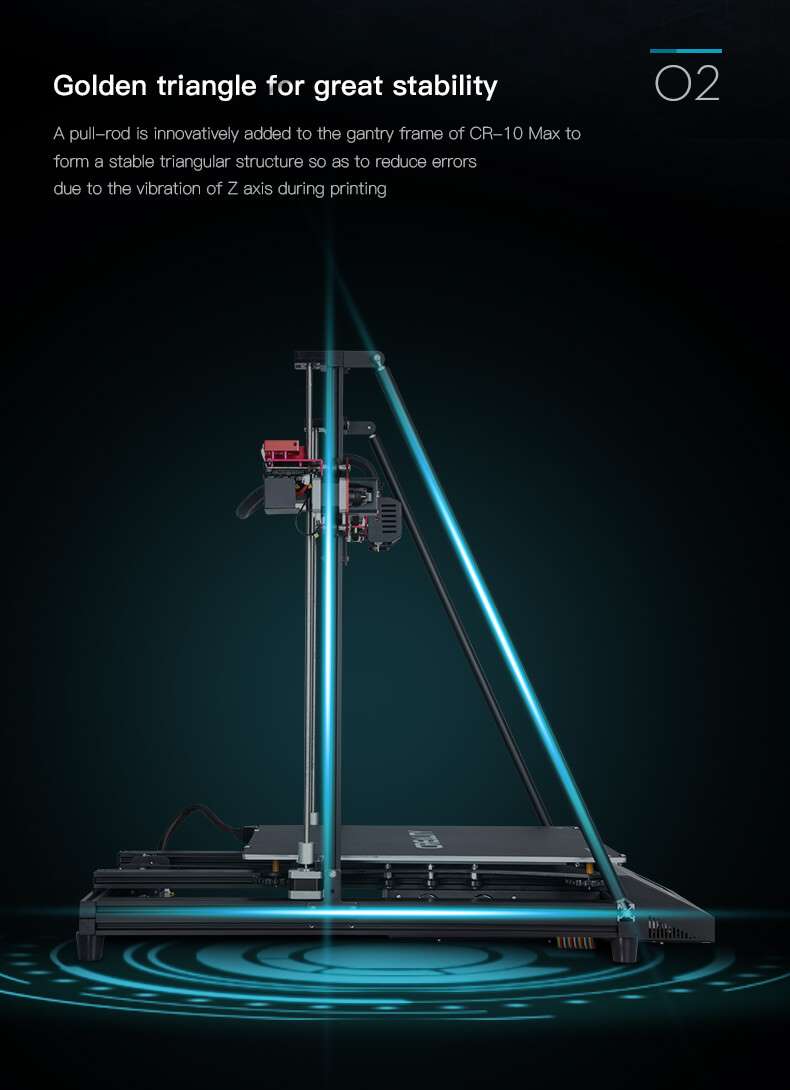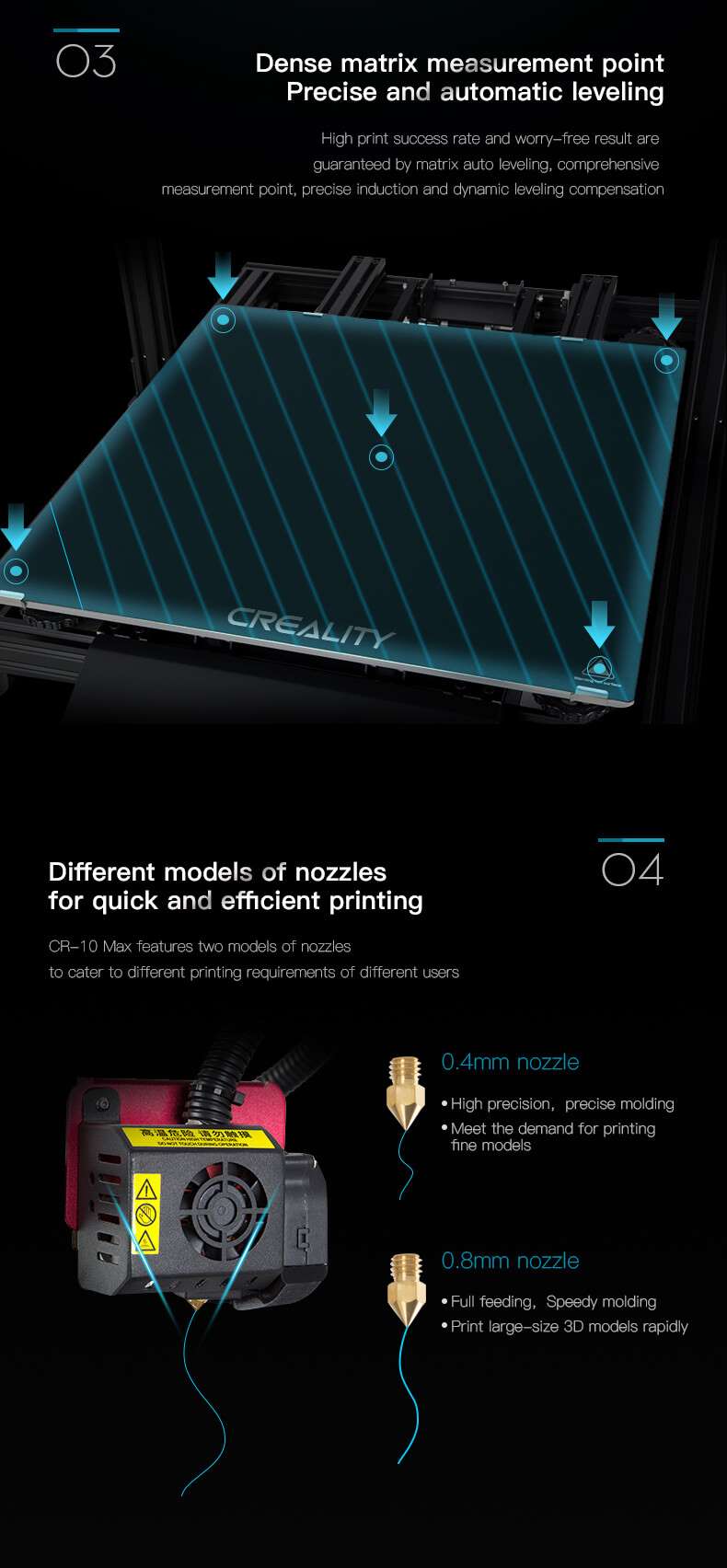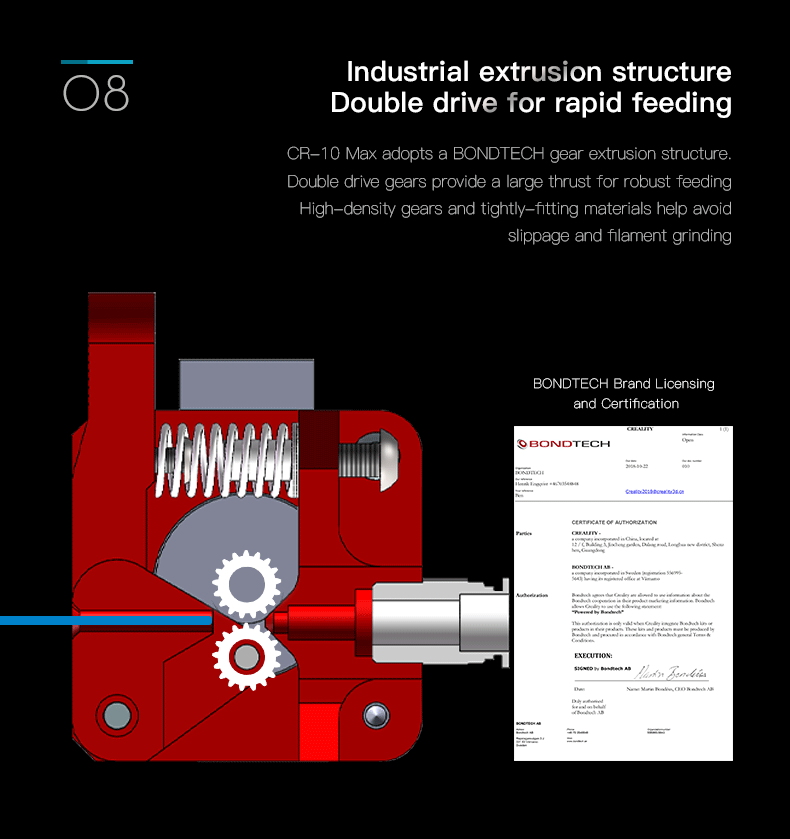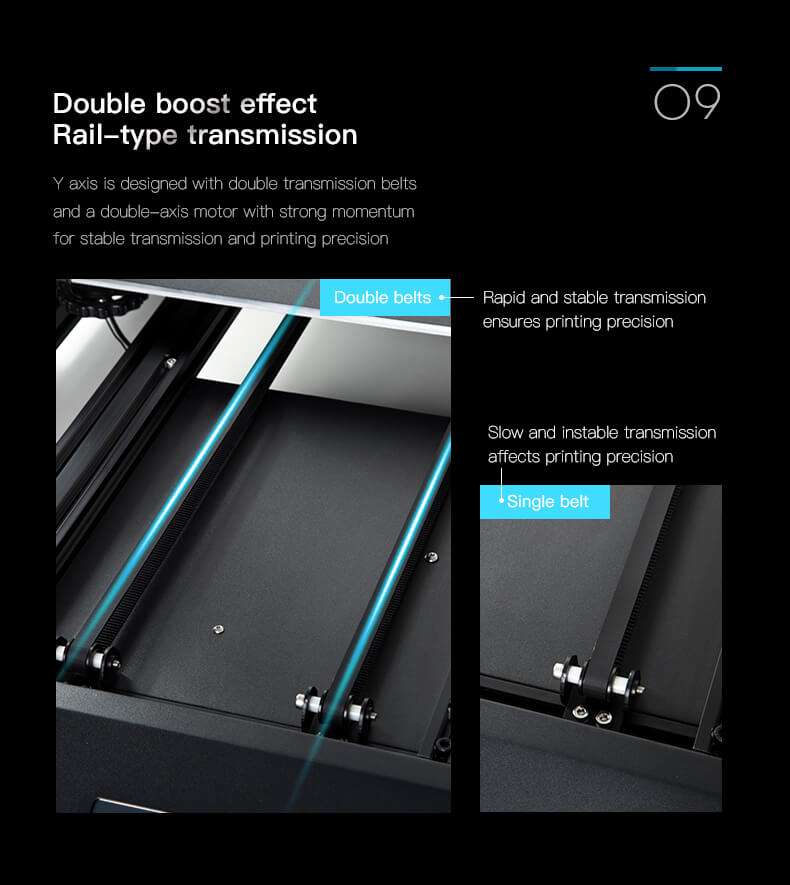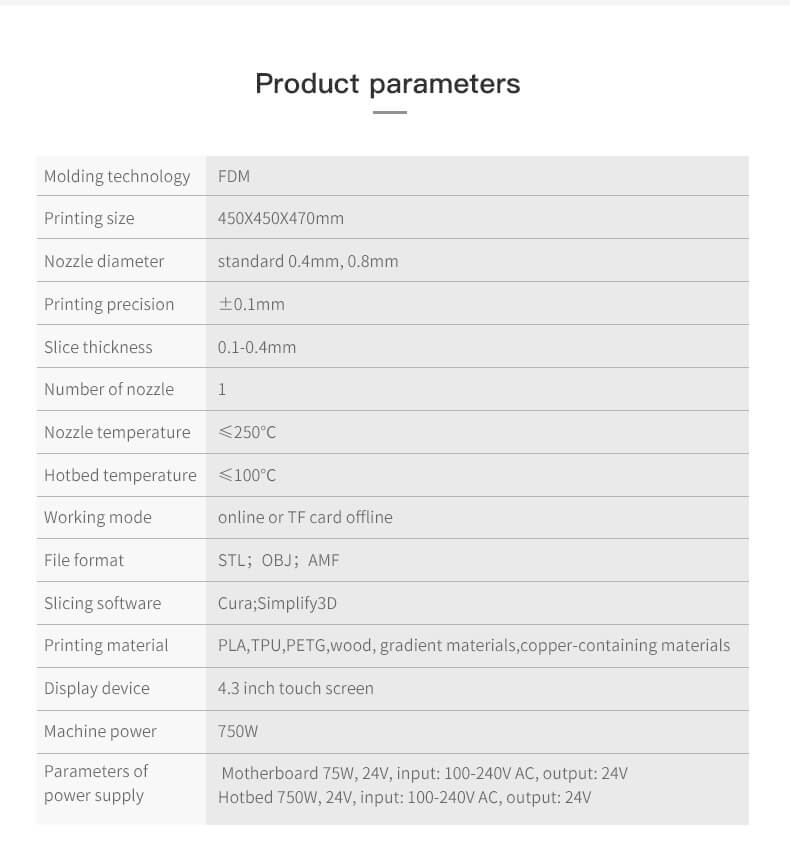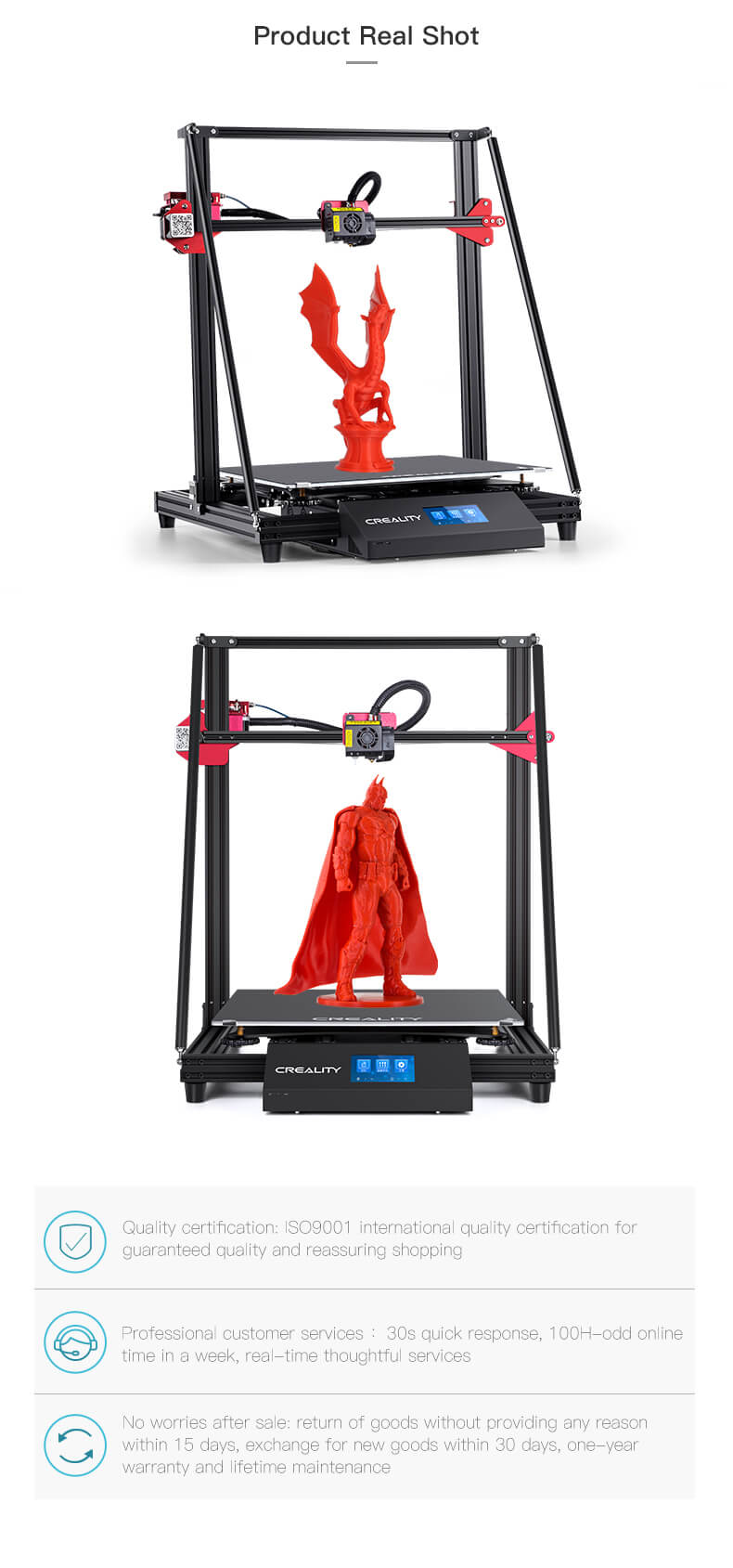 Video
Review
David Butcher
Creality CR10-max 3d printer
This is my very first ever 3d printer and has been a great learning curve. I've had some issues with the factory stuff and have upgraded the extruder hot-end to a Micro-Swiss all-metal end and added z height backlash nuts as well. All the bed level screws are tightened down fully and re-leveled the carriage to the bed with some engineers blocks. Also had the PTFE tube come out at the extruder end due to the fitting being low quality but has been replaced with the extras with the hot end. Things I don't like is the heat turns off on the bed when the filament runs out which is not good, would also like to see a dual extruder version of this one for running PVA threw one and maybe a two-spool setup so when one filament runs out it feeds the second one in behind it for continual printing. Also needs a hotter and faster bed heater would be also great. Also and an in-depth manual on all the slicer settings and how they affect the final print. A x y z location meter would also be good for reff printing.
Apart from that keen to purchase another and add a Pallete2 pro and an enclosure.
Rijndert
Amazing printer
Just buy my first 3d printer. Spend a long time on the internet to search which printer to buy.
After reading all the information I decided to buy a Creality.
Because this is a large machine I can do a big project.
I m working 4 days now with this machine and wow what a nice printer.
Just out of the box working as a pro I'm very happy with this printer and thumbs up for the Creality team for making this machine.
So keep up the good work.
Best Regards,
Rijndert from The Netherlands